August Blog Income Report – $13,229.53
*This post may have affiliate links, which means I may receive commissions if you choose to purchase through links I provide (at no extra cost to you). As an Amazon Associate I earn from qualifying purchases. Please read my disclaimer for additional details.
This month was super busy for me personally. On one hand that means I didn't get nearly as much done working on the business as I had planned. On the other hand, the systems and processes I built out proved themselves.
From the August 1 – 10th I was in Seattle/Alaska. We spent a few days in Seattle to walk around, and then hopped on a 7 day cruise to Alaska.
There were so many awesome sights. Creek Street is one of my favorite places to visit. Such a cool area with lots of neat shops.
In addition to the first 10 days spent in Alaska, my day job had some VERY cool stuff happening but that has meant triple work for me. I love keeping busy but this has been intense. Luckily that rush of work should be over by the end of this month.
All in all, this meant I relied heavily on my VA's to keep things moving. They did an awesome job! While I was checking emails daily still, this trip gave me the confidence I needed in my systems to be able to truly disconnect and take a vacation…at some point.
As for blog income, it's still down. Again, I think this is a combination of many of my sites being in a slower season now that summer is over. I also do think the most recent Google update played a role as well. That being said, I'll still keep hitting publish.
August 2021 Basic Stats
124 Articles Added
180,515 Words Published
$153.50 in Product Sales
Diversification
I expect diversification to take a while but I still want to track it so that I can actively keep an eye on it. I am onboarding another site with Mediavine in September and expect my revenue for that site to triple or quadruple vs. what it is currently earning with Ezoic (in fact, I pulled Ezoic ads after RPM plummeted).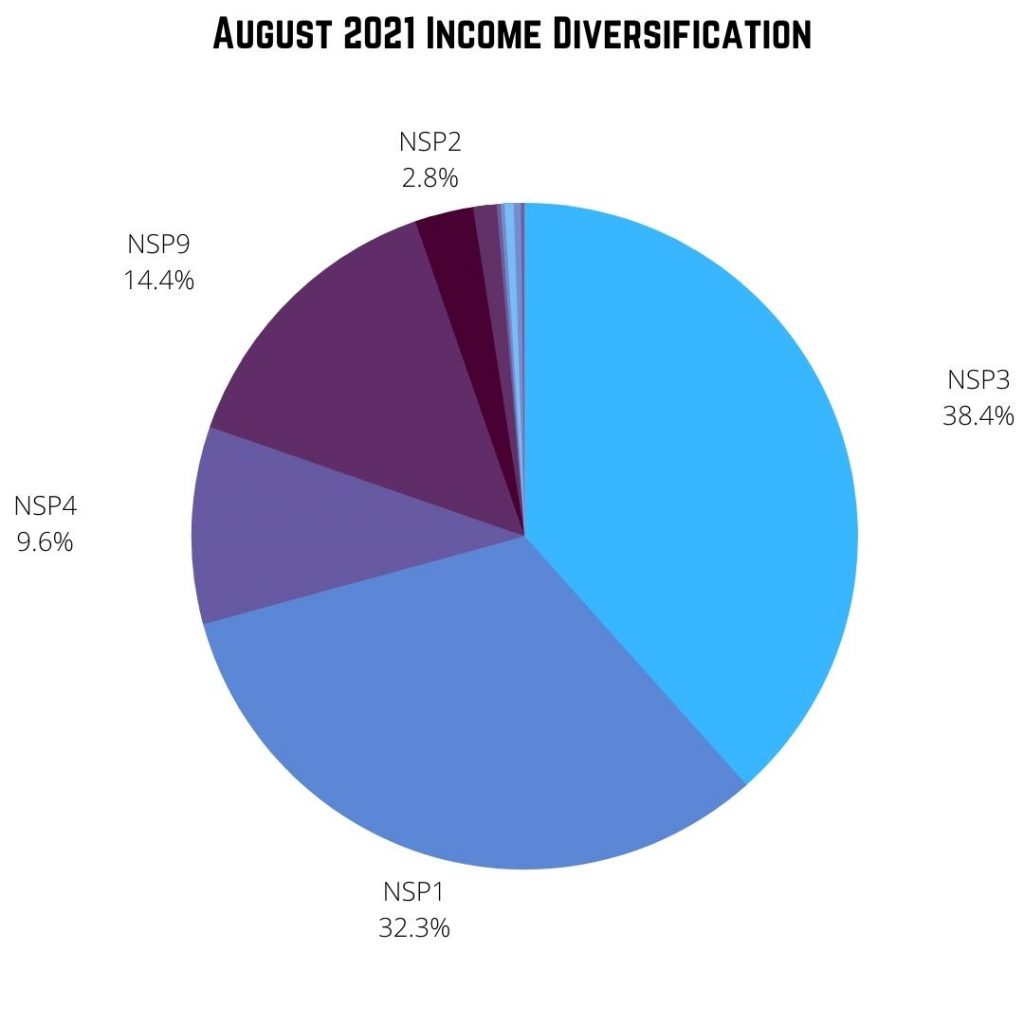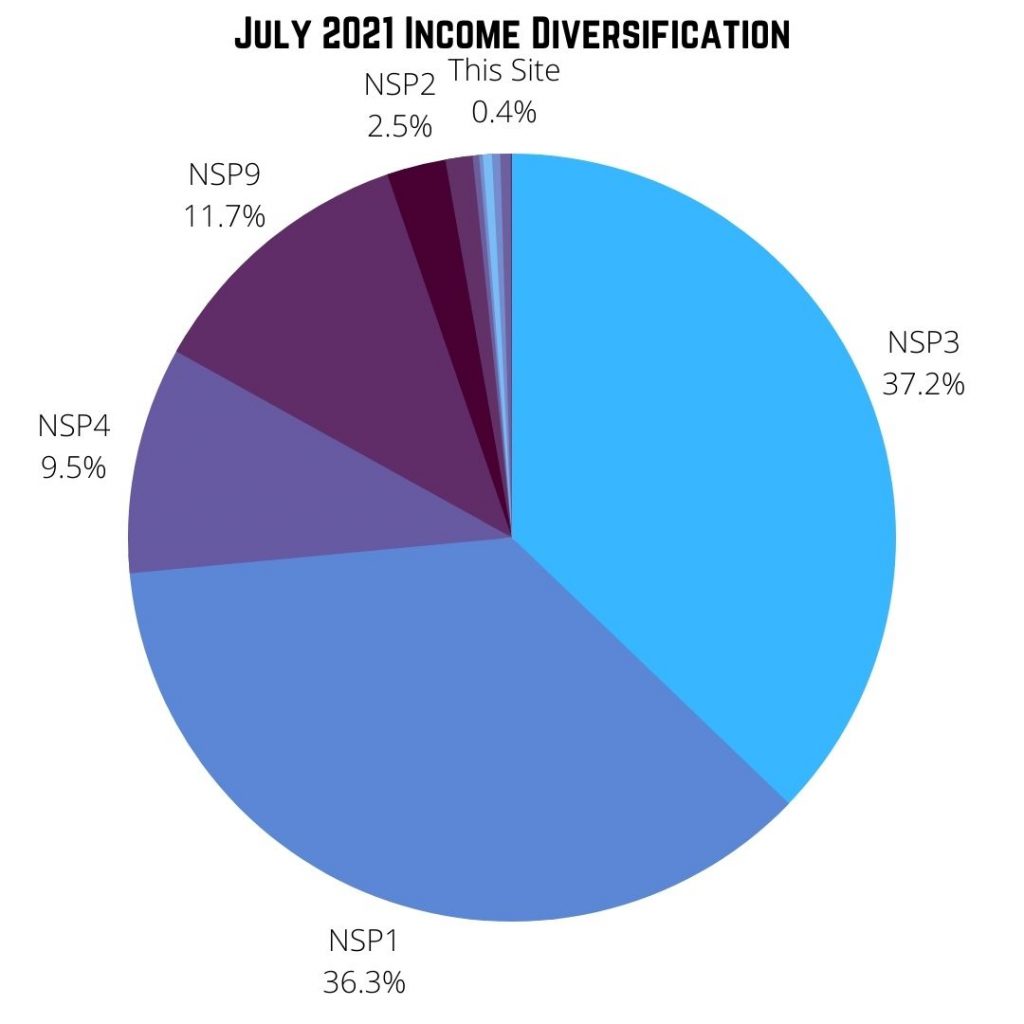 💰 August 2021 Blogging Income 💰
Total Gross Revenue for August 2021: $13,229.53
Screenshot for Good Measure:
I moved NSP1 back to Mediavine from AdThrive. When you leave AdThrive or Mediavine, they turn off the dashboard for your site. It's annoying, and it means I don't have that screenshot…so you're just gonna have to trust me on that one.
💸 August Blogging Expenses💸
Advertising & Marketing – $256.00 (this includes things like ConvertKit, Shopify Fees, etc)
Education – $273
Pinterest Templates – $15
Other Graphic Templates – $37
Office Supplies and Software – $610.90
Recurring Software – $1,339.64
Domains and Hosting – $421.67
Miscellaneous Shopify / Stripe / Paypal Fees – $15.92
Virtual Assistants – $1,696.92
Graphic Designer – $375.66
Taxes & Licenses – $141.00
Legal – $1,150.00
Total August Expenses = $6,332.71
Net Blogging Income for August 2021 = $6,896.82
August Content Costs
This month I did order another set of posts with Passion Posts and expect to have those delivered in September.
BTW, I am an affiliate and, if you use the coupon code RBYOMCQSWF you will get 10% off your first order.
The big struggle I've been having recently is finding the time to find new keywords. This is due to all the reasons listed above 😀 That being said, here are the stats for this month:
Content Costs = $4,906.39
Editing = $639.13
Total Content Costs = $5,545.52
Net Blogging Income
Accrual Accounting = $1,351.30
Cash Based Accounting = $6,132.08
This report is all based on accrual accounting but my business is actually run off of cash based accounting. Most of the income I report above won't be received for several months but all of the expenses were paid this month.
Keep in mind that not all blog income reports are the same and it is really important to understand how creators are arriving at their "profit" values.
If you enjoyed this content, consider buying me a coffee.

MY NICHE SITE PROJECTS
Interested in reading about my niche site projects? Check out my Niche Site Project List to see my projects & their individual status.
RESOURCES I USE
I keep an up to date list of all of the tools and resources I use to manage my blogs, including how I create the awesome dashboards in my income reports, on my Tools and Resources page.

These are my top tools:
NEWSLETTER SIGNUP
If you want to be updated when I write a new blog post, use this form below. It isn't pretty but it works :D. I promise to try to remember to email you!