July 2021 Blog Income Report – $13,911.27
*This post may have affiliate links, which means I may receive commissions if you choose to purchase through links I provide (at no extra cost to you). As an Amazon Associate I earn from qualifying purchases. Please read my disclaimer for additional details.
If you read my June report, I noted that I had take an considerable dive in traffic. This month that downward trend continued.
Some of it is the June/July update and some of it is seasonality. That traffic drop, coupled with poor RPM's for the start of Q3 means I am down considerably vs. last month.
The reality is, though, this portfolio of sites I have built are already performing way better than I expected. So I can't be upset, instead, I can continue to work with my team to create awesome content.
This month I traveled all the way to Kansas City, MO to meet up with a group of friends for a 2-day private blogging mastermind. It was a great surprise to have several wonderful guest speakers.
In fact, Mediavine even flew in their very own Heather Tullos to come in and chat with us which was a HUGE surprise. We all had so much fun.
Our small group formed during an Income School event just before everything started closing down and we've chosen to keep it small and exclusive.
I'd highly recommend to look in your own blogging community areas like forums, Facebook groups, etc and find people that are at your level that you can connect with for both moral support and accountability.
It really is helpful to have someone you can talk with that understands that "Mediavine" is not "Mediatree" and "Ezoic" is not "Eccentric" (but then again…maybe they are…I'd prefer their platform be simpler).
I didn't even realize bloggers had a language until several people in my circle said I've been talking about the sandbox for month and why don't I call Google if it's causing me so many issues.
The end result of my Kansas meet-up? I've got some great new ideas to try out, I'm switching NSP1 from AdThrive back to Mediavine, and I'm reinvigorated to continue to grow my business (more so than I was already :D).
It's August 2nd as I'm writing this and I had a crazy busy month in June at my day job and July is shaping up to be the same way. Because of that the expense numbers below are preliminary, I haven't had time to reconcile my QuickBooks yet. At some point I'll get to that.
I've also added a few more sites. But, I mean, that's pretty predictable. Anyhow, here are the details for this month 😀
July 2021 Basic Stats
115 Articles Added
140,332 Words Published
$154.02 in Product Sales
Diversification
Still tracking diversification. NSP1 & NSP3 are still making up the largest chunk of the pie here. As you'll see in the income detail in the next section, many sites are down and just a few are up but not enough to make a difference this month.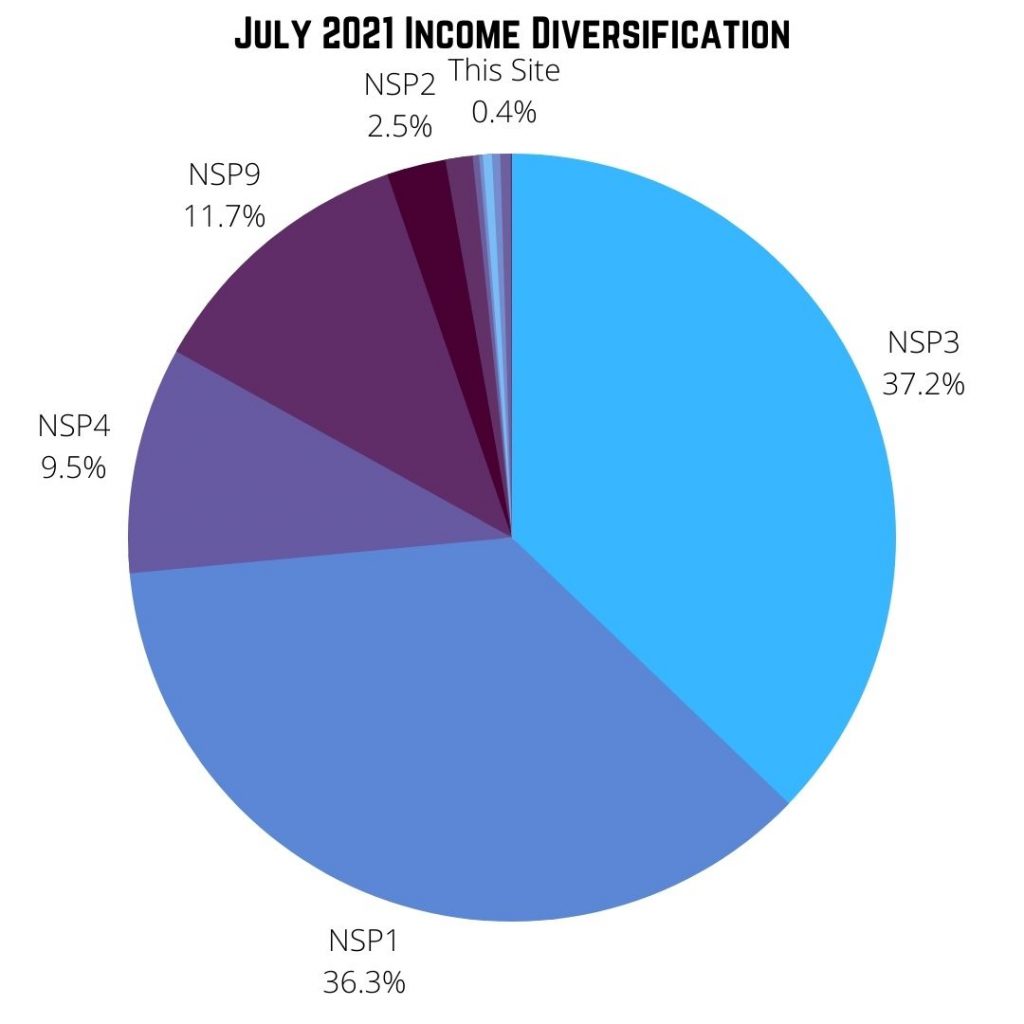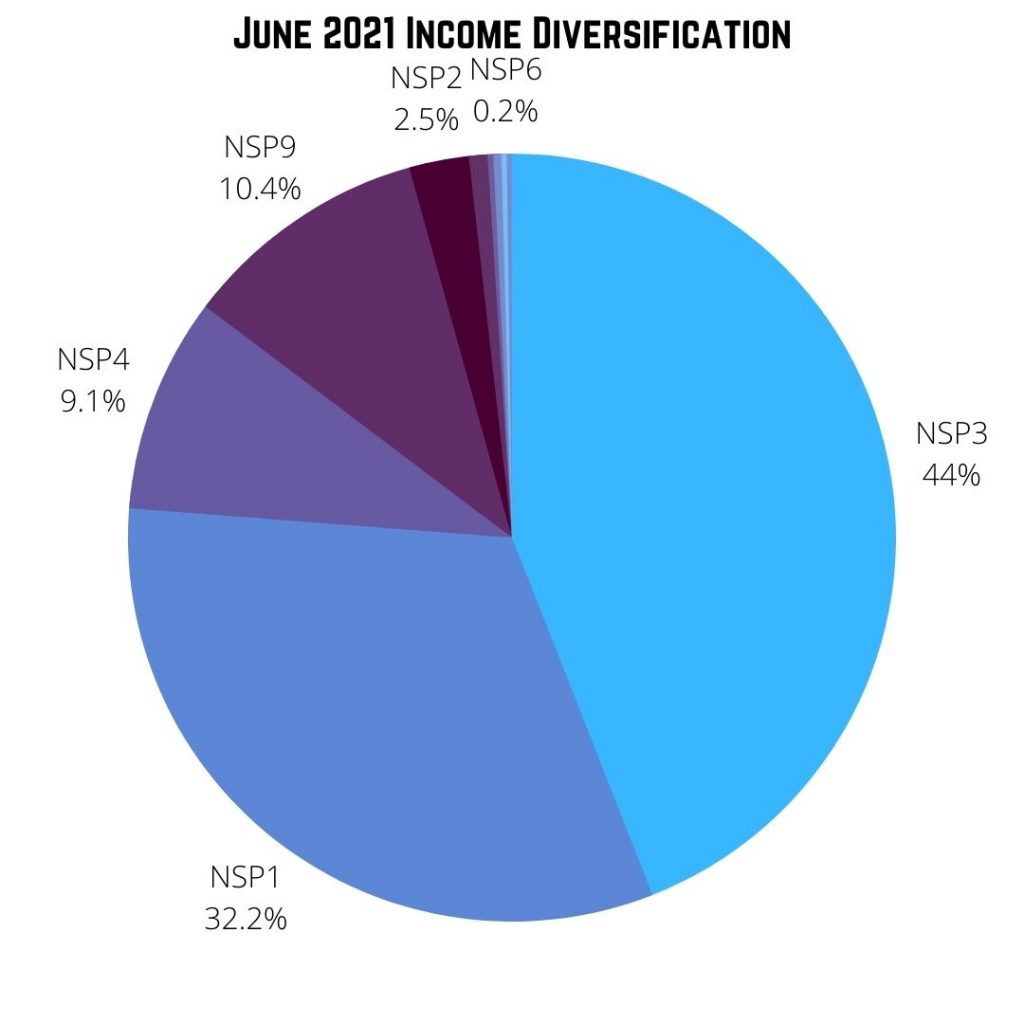 💰 July 2021 Blogging Income 💰
Total Gross Revenue for July 2021: $13,911.27
Year Over Year Results
Gross Revenue for July 2020: $4,235.34
Gross Revenue for July 2019: $163.30
Gross Revenue for July 2018: $34.87
I still can't believe how fast the growth has been! I am expecting a dip in income for July but still, the fact that I am making over $10,000 a month on blogging is still unreal.
Screenshots for Good Measure:
💸 July Blogging Expenses💸
Advertising & Marketing – $251.00 (this includes things like ConvertKit, Shopify Fees, etc)
Education – $281.99
Pinterest Templates – $15
Other Graphic Templates – $37
Office Supplies and Software – $107.85
Recurring Software – $427.88
Domains and Hosting – $316.28
Miscellaneous Shopify / Stripe / Paypal Fees – $5.50
Virtual Assistants – $1,609.13
Graphic Designer – $366.57
Travel – $202.84
Total July Expenses = $4,484.04
Net Blogging Income for July 2021 = $9,427.23
July Content Costs
Yet another month where we fell short of our goal. Yes, that is the same sentence I used to start this section on last months report. We were hoping to wind up with at least 5 writers hired, we were able to hire 2. On top of that, I planned to order another set of posts with Passion Posts but didn't find the time to create the keyword/topic list for them.
BTW, I am an affiliate and, if you use the coupon code RBYOMCQSWF you will get 10% off your first order.
This month I'm going to look at some other content creation services as well and see what I can do to get my numbers up. But, here are the stats for this month:
Content Costs = $1,785.32
Editing = $597.42
Total Content Costs = $2,382.74
Net Blogging Income
Accrual Accounting = $7,044.49
Cash Based Accounting = $7,491.29
This report is all based on accrual accounting but my business is actually run off of cash based accounting. Most of the income I report above won't be received for several months but all of the expenses were paid this month.
Keep in mind that not all income reports are the same and it is really important to understand how they are arriving at their "profit" values.
If you enjoyed this content, consider buying me a coffee.

MY NICHE SITE PROJECTS
Interested in reading about my niche site projects? Check out my Niche Site Project List to see my projects & their individual status.
RESOURCES I USE
I keep an up to date list of all of the tools and resources I use to manage my blogs, including how I create the awesome dashboards in my income reports, on my Tools and Resources page.

These are my top tools:
NEWSLETTER SIGNUP
If you want to be updated when I write a new blog post, use this form below. It isn't pretty but it works :D. I promise to try to remember to email you!