Niche Site Project 3: Home and Garden
*This post may have affiliate links, which means I may receive commissions if you choose to purchase through links I provide (at no extra cost to you). As an Amazon Associate I earn from qualifying purchases. Please read my disclaimer for additional details.
It is hard to describe this one but it is basically home and garden. My dream is to build my own home with a small farm and vegetable garden so this blog is meant as a catch-all for all things related to that.
Specifically, I love farmhouse style design and decor with a homesteading vibe. That being said, do you know how HARD it would be to break into the farmhouse style niche? Especially if you don't own your own home for beautiful lifestyle pictures.
I have a two-bedroom, one-bath apartment with a tiny galley kitchen. I can't have any animals at home right now except my beta fish and my dog, but, this is my dream niche and I have found a few topics that will work until I start building my dream home.
So I call this one my home and garden site but technically it is a home building, home design, garden, homesteading, self-sufficiency, small farm kind of site. It's going to be the next Better Homes & Gardens just wait and see!
It has been hard to get into building this site, though, because I do know the barrier to entry will be hard. I started this site with a brand new domain name in June of 2019. Here are the stats:
| Project | Month Start | Month # | # Articles Added | Total # Articles | Words Published | Pageviews | Total Earnings |
| --- | --- | --- | --- | --- | --- | --- | --- |
Year in Review
2022 – June Analysis
I think the graph above says a lot. This site is still performing beyond my wildest dreams but, the above chart is a clear indication that I need to do better.
For this site, I always compare to previous period because the niche is very seasonal. This site is going to be one of the projects getting more of my attention over the rest of this year. Some of the things we're going to focus on are:
Interlinking
Webstories
Building a Mailing List
Lots and Lots of Content – I'd love to have at least 1,000 posts on this site by the end of the year.
2019 Analytics Overview
This site is continuing an upward trend, as expected.
2019 Total Income
This site has earned $3.76 total for 2019.
October Notes
October 2019 traffic really spiked! This was really neat to see as the site is just hitting 5 months old. Most of this traffic is to just two posts. Even so, it is an inspiring uptick!
As of the end of October, this site is still not using Pinterest or social at all.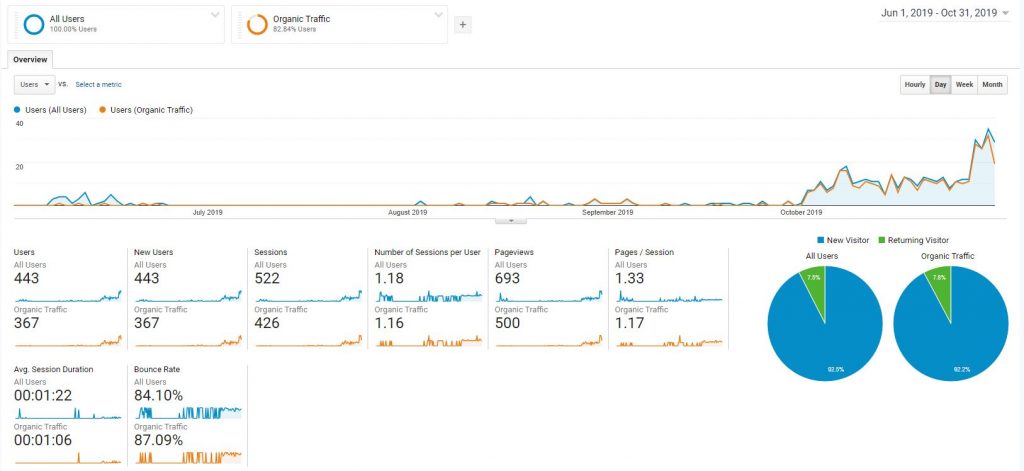 Income Reports
If you enjoyed this content, consider buying me a coffee.

MY NICHE SITE PROJECTS
Interested in reading about my niche site projects? Check out my Niche Site Project List to see my projects & their individual status.
RESOURCES I USE
I keep an up to date list of all of the tools and resources I use to manage my blogs, including how I create the awesome dashboards in my income reports, on my Tools and Resources page.

These are my top tools:
NEWSLETTER SIGNUP
If you want to be updated when I write a new blog post, use this form below. It isn't pretty but it works :D. I promise to try to remember to email you!