June 2022 Blog Income Report – $15,218.14
*This post may have affiliate links, which means I may receive commissions if you choose to purchase through links I provide (at no extra cost to you). As an Amazon Associate I earn from qualifying purchases. Please read my disclaimer for additional details.
Wow, it's been a long time since I posted an income report. When things get busy, writing these go down to the bottom of the list.
In June, I noticed my income was down what I consider a significant amount year over year. Here's how things look on my blogging timeline: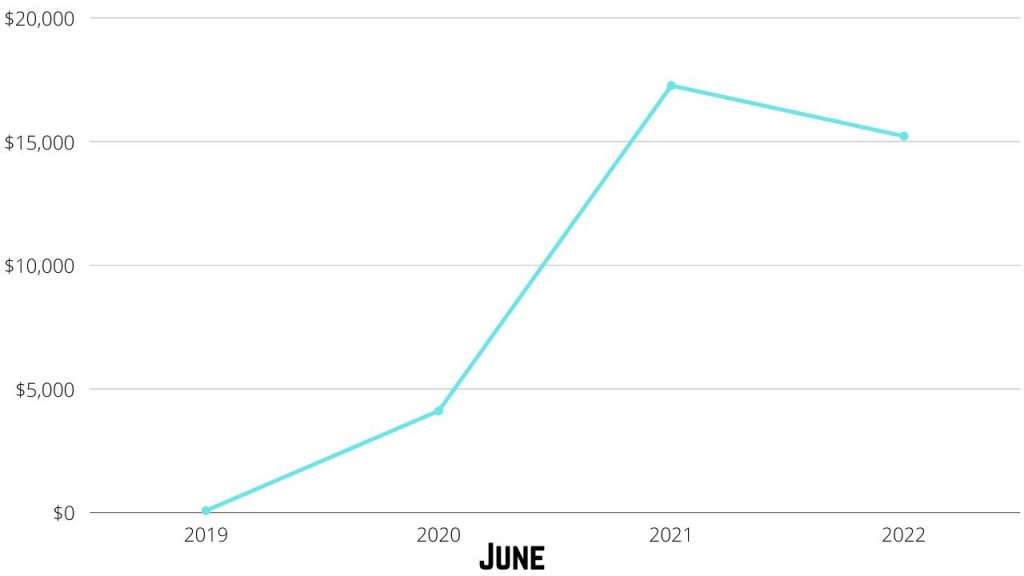 Granted, I've made huge improvements. I mean, who WOULDN'T be excited with a line graph like the one above in just a few years.
But, like I would expect of anyone else, I do like to see numbers go up year over year, not down. Especially since in June 2021 I had 12 sites (not including this one) that were monetized with ads.
Currently, I'm up to 20 sites monetized, not including this one.
I do think if I had a better ability to focus on even 10 sites instead of 50 (you read that right) I would be farther along in my income journey. But, that isn't the case so let's move on 😀
June 2022 Basic Stats
84 Articles Added
120,368 Words Published
$122.40 in Product Sales
Production has been slowly creeping down. Internally posts have been getting stuck waiting for editing. As I write this report, 202 posts are waiting to be edited.
We've been working on refining our editor hiring process to incorporate some strategies I learned at the mastermind I attend every year. This process is already working better than before to evaluate the pool of candidates and I'm hopeful we'll have a couple editors hired soon.
On top of the editor situation, we've also let 2 writers go for Plagiarism/Spinning. I think any time you have a team of writers, this kind of thing crops up, but it is frustrating to have two in the same month.
Because we are so behind in editing, that means that writer could have 20 – 30 articles "paid for" that haven't been edited yet. We don't throw those articles away, but they do get a very thorough review which increases editing time significantly and decreases output.
In spite of the frustration, I do know that these struggles lead to internal process improvements. We clarify existing processes and implement new processes to improve things going forward.
💰 June 2022 Blogging Income 💰
Total Gross Revenue for June 2022: $15,218.14
Gross Revenue for May 2022: $16,242.96
Gross Revenue for April 2022: $15,711.56
Gross Revenue for March 2022: $15,163.01
Gross Revenue for February 2022: $10,024.00
Gross Revenue for January 2022: $10,371.08
Screenshot for Good Measure:
Multiple screenshots take time, so here is the big one. The rest of the income comes from Ezoic and affiliate income.
💸 June Blogging Expenses💸
Advertising & Marketing: $227.00
Virtual Assistants: $2,643.83
Education: $620.00
Graphic Templates: $29.00
Office Supplies: $440.81
Recurring Software: $1,930.18
Domains & Hosting: $413.29
Paypal Fees: $6.56
Taxes: $318.75
Wages: $4,166.67
Shopify Fees: $0.50
Stripe Fees: $5.50
Travel: $370.94
Total June Non-Content Expenses: $11,173.03
Net Blogging Income for June 2022: $4,045.11 (not including my wages listed above)
June 2022 Content Expenses
Once the new editors are onboarded, I anticipate another round of hiring writers and this content expense to go up.
Writers: $3,861.50
Editors: $1,123.88
Total Content Costs: $4,985.38
Net Blogging Income
Cash: $2,346.99
Accrual: -$1,963.54
This report is all based on accrual accounting but my business is actually run off of cash based accounting. Most of the income I report above won't be received for several months but all of the expenses were paid this month.
Virtual Assistant Available
My lead VA is amazing, she works for me full-time. Recently her partner left his job in the Phillipines to start learning to be a Virtual Assistant. Over the past several months he's been working on my sites part time adding pictures, and filling in where needed.
I don't, however, have full-time work available for him so he is available for those looking for a VA. He is still new to this blog world however, if you have the ability to show him what you need done via a recording, I have no doubt he'll be able to do well.
Keep in mind he can't share my processes so you will need to provide training on how you want things done.
If you are interested, feel free to reach out via OnlineJobs.ph: Jared Baraceros
Please keep in mind that although he does work for me part-time, and I can recommend him, I can't guarantee he'll work out for you. Please do your own due diligence to make sure any hire works well for your team.
If you enjoyed this content, consider buying me a coffee.

MY NICHE SITE PROJECTS
Interested in reading about my niche site projects? Check out my Niche Site Project List to see my projects & their individual status.
RESOURCES I USE
I keep an up to date list of all of the tools and resources I use to manage my blogs, including how I create the awesome dashboards in my income reports, on my Tools and Resources page.

These are my top tools:
NEWSLETTER SIGNUP
If you want to be updated when I write a new blog post, use this form below. It isn't pretty but it works :D. I promise to try to remember to email you!