January 2021 Income Report – $6,005.59 Earned
*This post may have affiliate links, which means I may receive commissions if you choose to purchase through links I provide (at no extra cost to you). As an Amazon Associate I earn from qualifying purchases. Please read my disclaimer for additional details.
As is the norm for January for most bloggers, income is down this month for most sites, and up for the personal finance site.
Overall though, things are looking pretty good for the business. Sites are progressing, some faster than others, and all in direct proportion to content being added.
🗠 January 2021 Basic Stats 🗠
18 "Active Sites" – More or less this means a site that I am actively doing keyword research for and having writers write content for. Not every "active" site gets new content every month.
86 articles published
109,259 words published
$500.90 in product sales
In addition to the new articles published this month I've been trying to do content updates. Some are more thorough than others but I do include those in the article counts below.
💰 January 2021 Income for My Sites💰
Total Gross Revenue for January 2021: $6,005.59
💸 January Blogging Expenses💸
Part of the work of doing these blogging income reports is assembling all the data. This month is pretty busy for me so, in order to get this report out I've decided to just list my main categories of expenses.
Advertising & Marketing – $175.60
Bank Charges & Fees – $4.47
Education – $526.50
Pinterest Templates – $15
Office Supplies and Software – $3,014.02
Includes a brand new computer and monitor just over $2k
Recurring Software – $1,212.55
Includes my ClickUp Renewal which was just over $500 and SO VERY worth it!
Domains and Hosting – $228.59
Miscellaneous Shopify / Stripe / Paypal Fees – $34.74
Virtual Assistants – $1,725.57
Total Expenses: $6,937.04
Net Blogging Income for January = -$931.45
That means that before content expenses, I was already in the hole $931 for the month IF you were to run a report on an accrual basis.
The reality is, though this report is Accrual, my actual business accounting is cash basis and I had more than enough cash on hand this month to cover all the expenses without incurring debt.
So let's go into Content Expenses
January Content Expenses
I still haven't broke that 100 post mark. I'm confident my team and I will in February though!
Net Income after content investment = -$3,691.85
December Net Income after Content: ~$2,449.60
I didn't actually calculate this out last month so I just pulled a Profit and Loss from my accounting software based on Accrual method which should be mostly accurate.
November Net Income after Content: $2,141.13
October Net Income after Content: $1,975.33
September Net Income after Content: $285.46
August Net Income after Content: $1,606.39
July Net Income after Content: $1,546.65
Getting Paid
I thought now would be a good time to mention something very important for anyone reading blog income reports. They often don't represent the whole picture.
For example, I try to be very transparent about all my numbers, traffic, etc. but, what you may not realize is that after over 12 months of reporting my income, I have yet to take a single cent out of the business.
That is by design. I choose to reinvest all of the profits back into the business to help it grow faster. That means hiring help. Right now my team is made up of:
4 VA's
1 Graphic Designer
3 Editors
13 Writers
Me
That is a team of 21 not including myself. Only one of the VA's is full time, everyone else is part time.
I have a full-time 40 -50 hour per week job that pays all of my day to day bills but that means that I need to rely on a team to do a lot of the work necessary to keep things going because I simply don't have the time.
This also frees me up to focus on the things that interest me the most.
Every blogger and blogging journey is different. For now, this is what is working for me though I will say that in 2021 I have finally started to set aside funds for pay, profit and taxes, via the Profit First method.
Post Type Distribution
If you've followed my income reports for any period of time you know that I attribute most of my success to the information I learned in the Project 24 Course.
In that course, they teach about 3 types of blog posts:
Response Posts (Specific)
Staple Posts (Regular)
Pillar Posts (Broad)
Recently a reader asked what my distribution was per site. Here are the current stats (as of Feb 12) courtesy of Blogger Plot, a tool I love, use on a regular basis and highly recommend.
NSP1 – Pets
NSP2 – Personal Finance
This site always spikes December / January due to New Years Resolutions and then falls off so that is what we are seeing here.
NSP3 – Home & Garden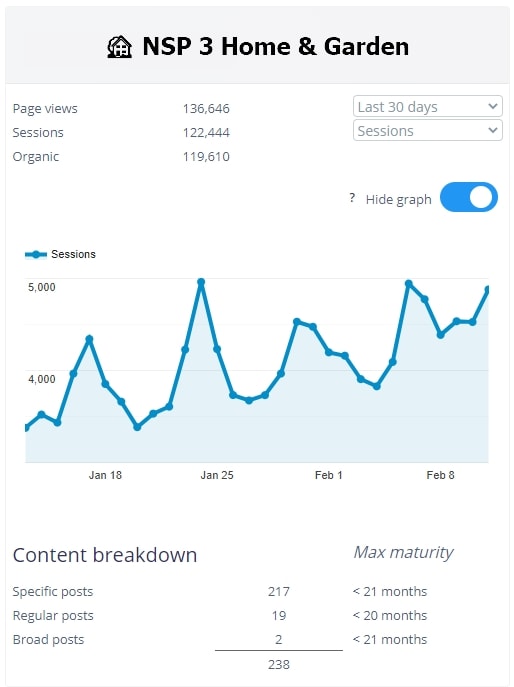 NSP4 – Pets
I switched themes for this site where you see the dip, then realized I hadn't checked the analytics code and fixed it.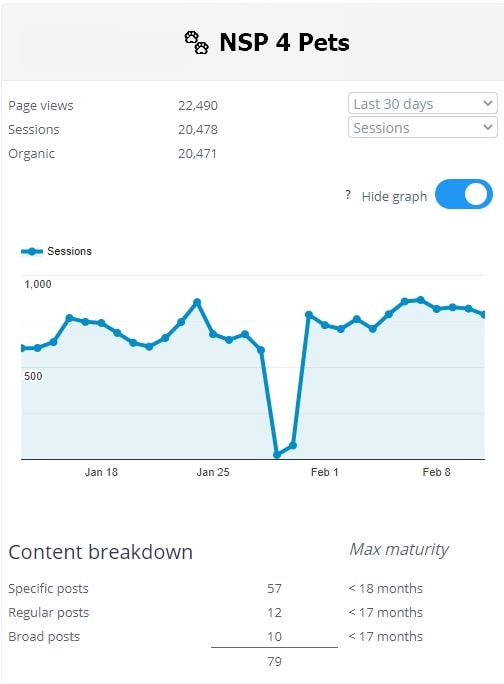 NSP5 – Animals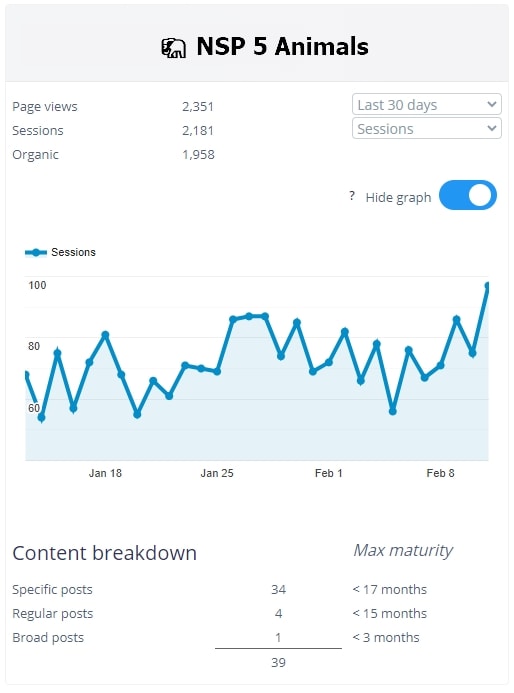 NSP6 – Pets
NSP8 – DIY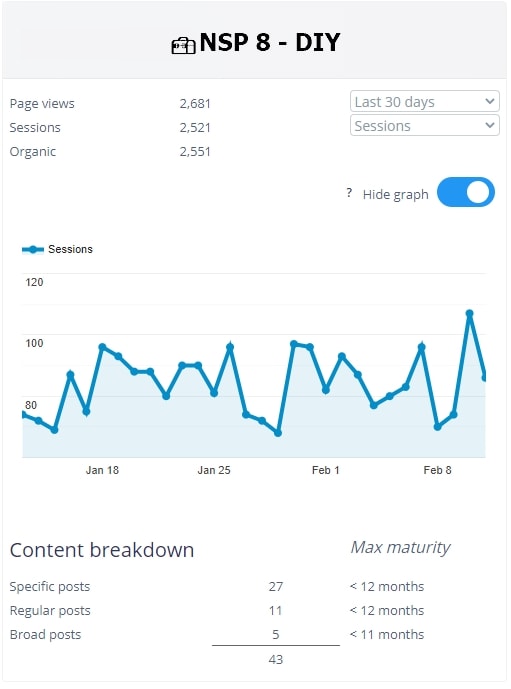 NSP9 – Home & Garden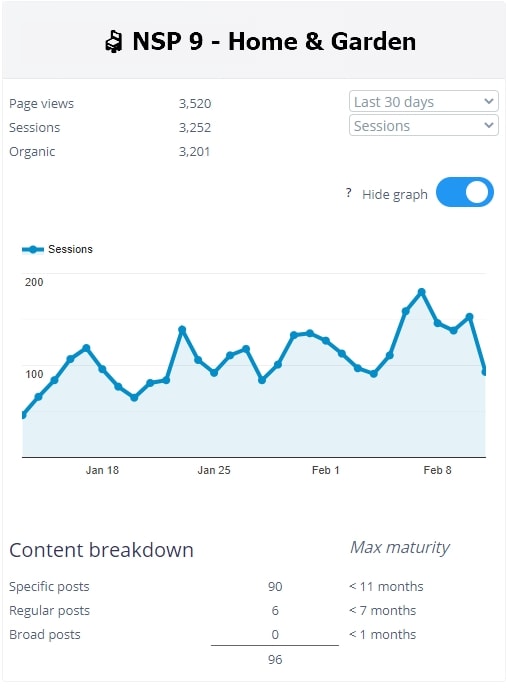 February Plans
This month I'll be adding at least 3 new sites.
Content production goal is 141 posts published.
I'll be ordering 50 posts from Passion Posts. I tried out 10 on an initial order and am pleased with the quality and the price so I think it's a good supplement to my own team.
These income reports are getting harder and harder to find the time to put together as my business grows. That means I don't know what the future holds for them.
I enjoy writing them when I do sit down to do it, finding the time is hard though. I think, at this point, I am going to consider switching to Quarterly progress reports instead of monthly income reports.
We'll see 😀
If you enjoyed this content, consider buying me a coffee.

MY NICHE SITE PROJECTS
Interested in reading about my niche site projects? Check out my Niche Site Project List to see my projects & their individual status.
RESOURCES I USE
I keep an up to date list of all of the tools and resources I use to manage my blogs, including how I create the awesome dashboards in my income reports, on my Tools and Resources page.

These are my top tools:
NEWSLETTER SIGNUP
If you want to be updated when I write a new blog post, use this form below. It isn't pretty but it works :D. I promise to try to remember to email you!