May 2021 Income Report – $16,418.33
*This post may have affiliate links, which means I may receive commissions if you choose to purchase through links I provide (at no extra cost to you). As an Amazon Associate I earn from qualifying purchases. Please read my disclaimer for additional details.
May sure has been an interesting month. I hired a lawyer for a consult to go over some LLC stuff, brought on a new part-time team member mid month to help keep things moving.
The team has been focusing on pushing out content and, to be frank, I'm struggling to find the motivation to keep up with keyword research. Buying new domains is a good distraction but, my goal this month is to plan out at least 50 posts for each live site.
Additionally, I'm going to try to commit to NOT launching any new sites until I've done that basic 50 post research.
As part of that, I've worked to develop roles or role descriptions for the team. My goal is that this will give them a good idea of what they should be working on but also clearly identify who is responsible for each aspect of the business.
Right now, because the VA team is small, some have multiple roles but, by separating them out, I'll be able to figure out which positions to hire next in the company. Right now the role chart looks like this but it is definitely a work in progress.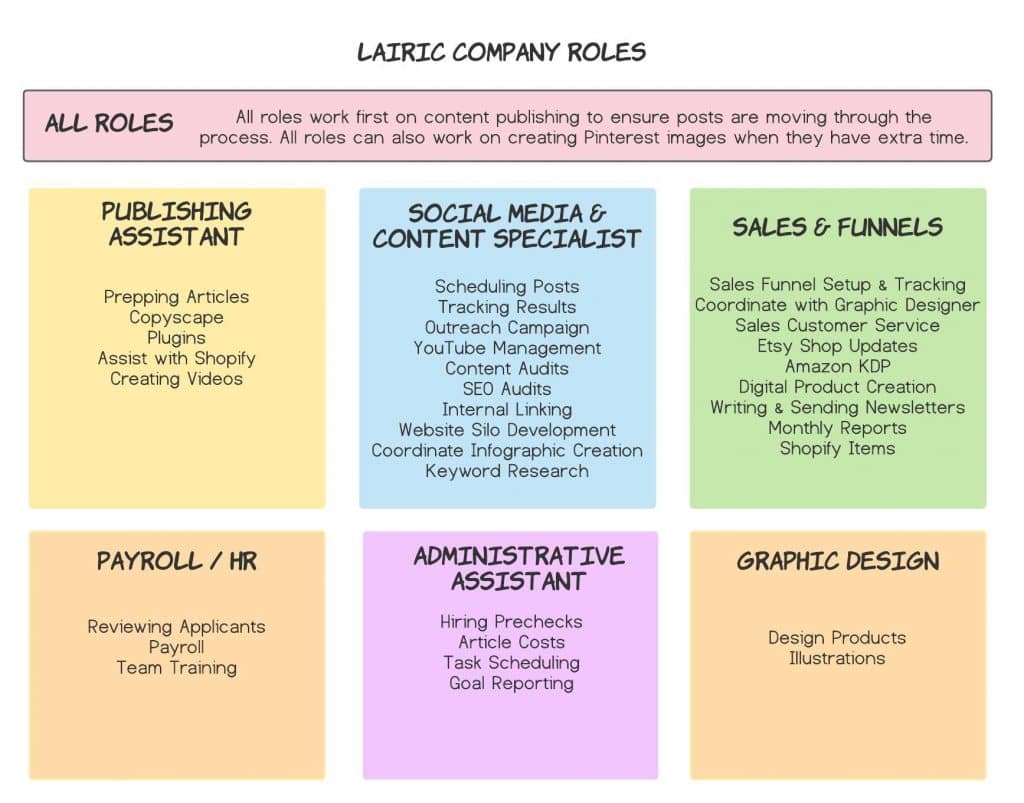 It's also important to note that we aren't doing all the things listed. While I'd love to be able to do them all, we don't have the resources for it and the team needs to learn HOW once we do.
Diversification
I'm pretty sure this is going to be my theme for the year. As things grow it really is important to me to round out the income and, focusing on diversification, will help me to give the smaller sites attention they need to grow.
So it really is a win win!
Last month Compared to this month it is pretty interesting that NSP3 held exactly the same percentage.
While these graphs are based off of total income, I'm also looking at revenue streams and just brought on a VA to help focus on product sales and funnels. I don't know if it will work out or be worth the time investment but I do know I miss 100% of the shots I don't take.
🗠 May 2021 Basic Stats 🗠
169 articles published
221,996 words published
$143.00 in product sales
💰 May 2021 Blog Income 💰
Total Gross Revenue for May 2021: $16,418.33
Screenshots for good measure:
💸 May Blogging Expenses💸
Advertising & Marketing – $251.00 (this includes things like ConvertKit, Shopify Fees, etc)
Education – $617.00 (This is up from last month. I purchased a few courses that have so far been awesome!)
Pinterest Templates – $15
Other Graphic Templates – $37
Office Supplies and Software – $108.09
Recurring Software – $766.03
Domains and Hosting – $1,226.28 (I may have bought a few new domains this month)
Miscellaneous Shopify / Stripe / Paypal Fees – $12.58
Virtual Assistants – $1,312.53
Google Web Stories – $800.00
Graphic Designer – $361.03
Taxes and License – $240.00
Legal – $249.00
Total Expenses: $5,932.89
Net Blogging Income for May 2021 = $10,485.44
May Content Costs
While we didn't meet our goal this month we did get some posts published. I'll be trying to hire writers soon.
Content Costs = $3,963.34
Editing Costs = $442.90
Total Content Costs = $4,406.24
Net Blogging Income
As you read blog income reports remember that not all reports are created equal and it really is important to use them for inspiration but also remember your blogs are on their own journey.
Each month I report net blogging income after content and I always try to make it super clear the income reported won't actually be received for a few months due to differing payout schedules from ad providers and affiliates.
A quick Income – Expense yields a net value for May of $6,079.20 profit. That number, though, is a value for someone who runs accrual accounting. Like most bloggers, my actual books, and what I file taxes on, is CASH based accounting.
On a cash basis, my P&L this month shows $3,547.93 profit.
If you enjoyed this content, consider buying me a coffee.

MY NICHE SITE PROJECTS
Interested in reading about my niche site projects? Check out my Niche Site Project List to see my projects & their individual status.
RESOURCES I USE
I keep an up to date list of all of the tools and resources I use to manage my blogs, including how I create the awesome dashboards in my income reports, on my Tools and Resources page.

These are my top tools:
NEWSLETTER SIGNUP
If you want to be updated when I write a new blog post, use this form below. It isn't pretty but it works :D. I promise to try to remember to email you!