April 2021 Income Report – $14,154.22
*This post may have affiliate links, which means I may receive commissions if you choose to purchase through links I provide (at no extra cost to you). As an Amazon Associate I earn from qualifying purchases. Please read my disclaimer for additional details.
The first month of Q2 has come to a close and, once again, I'm happy to report an increase in income. As income increases, I'm always thinking about two things:
Am I diversified enough
Am I stretched too thin
Diversification
If you've read any of my other reports you know that I have A LOT of websites. So, it may seem that worrying about diversification is silly. In actuality though, while I do have multiple income streams, not all of my sites are earning.
That means each month I'm putting thousands of dollars of content out, some of which goes to sites that have yet to earn a dime.
I technically have 13 sites "earning" income, but NSP3 is definitely the breadwinner. My goal is to work to grow each of the pie slices so they take up a more equal chunk, while also still growing NSP3.
Likewise, the bar graph below shows the revenue breakdown for my top six sites (those earning more than $50). As you can see, it's pretty heavy on the ad revenue side and I'd love to see Amazon/Affiliate and Products showing a larger percentage.
Both of these are areas of diversification that I want to work on for my business.
Further down the diversification train of thought, each site's diversification is important too. My two largest sites have this covered with the #1 performing post on each representing just over 5% and just over 9%. Lower numbers are better here.
While this isn't a value I look at routinely, I do take a peek at it every now and again just to see how things are doing.
Work Balance
The other big thing to think about is whether or not I'm stretched too thin. Is the sheer fact that I have so many websites hampering the ability for one or more of them to grow.
This is almost certainly the case. I do think that things would grow much faster if I were to put all 208 articles for last month into 2 or 3 sites instead of 22 sites.
The mere fact that I have 22 sites to put content on still astonishes even me. That means that for last month, at a minimum, I had to find 208 keywords and outline 208 topics for my writers.
The May content goal is 253 posts and this is definitely something I'll be considering.
For now though, I think the easiest thing to focus on is how I can get the Ezoic sites large enough for Mediavine. For the huge RPM difference it only makes sense to try and get there as soon as possible.
With all that out of the way, let's move on to the income report!
🗠 April 2021 Basic Stats 🗠
208 articles published
284,281 words published
$174.50 in product sales
Product revenue was well below what I had wanted for this month, mostly because I didn't make the time to setup the April budgeting product properly so all visitors to that site were still being offered the March package.
I've already started working on getting May setup and am documenting the process so that I can move that task over to one of my VA's.
I always think I'll have more time than I do. I moved one of my team members to full-time in April so I am hoping this is something she'll have time to take off my plate.
For May, the content goal is 253 posts published and that is always the #1 priority.
💰 April 2021 Blog Income 💰
April has been another great month for me. In fact, I saw a 12% income growth over last month. I did finally dive in and look at traffic and it doesn't seem like there are any outliers or viral posts.
I think the income is just due to higher RPM's as well as some spring seasonality for my bigger sites. Here is how income broke down by site this month:
Total Gross Revenue for April 2021: $14,154.22
Gross Revenue for March: $12,639.48
Gross Revenue for February: $7,219.59
Gross Revenue for January: $6,005.59
Screenshots for good measure: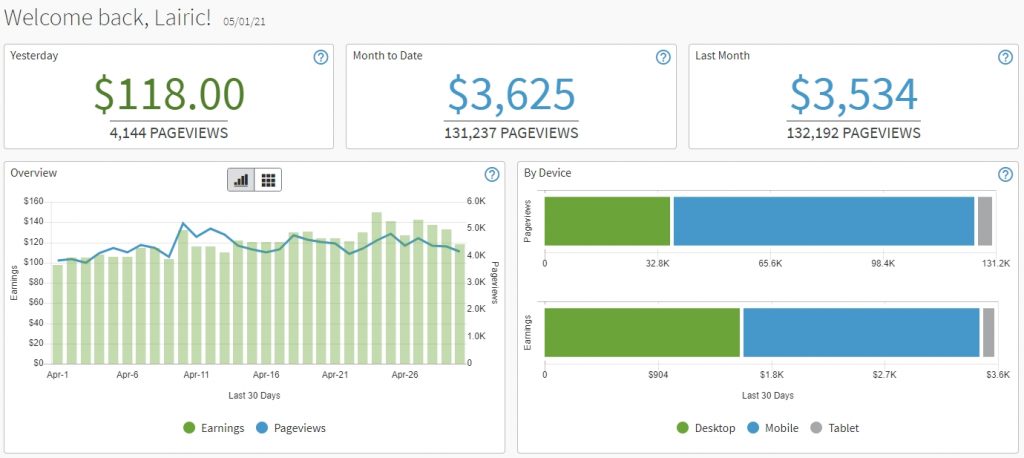 💸 April Blogging Expenses💸
I haven't done the reconciliation for April yet but these numbers should be mostly accurate. I normally delay this income report till after the reconciliation is done but decided to just get it out.
Advertising & Marketing – $251.00 (this includes things like ConvertKit, Shopify Fees, etc)
Education – $273.00 (I'm actively working to reduce this number)
Pinterest Templates – $15
Other Graphic Templates – $80
Office Supplies and Software – $293.35
Recurring Software – $1466.75

$953.60 of this is an annual license for the Trellis theme by Mediavine for 8 sites

Domains and Hosting – $181.71
Miscellaneous Shopify / Stripe / Paypal Fees – $11.27
Virtual Assistants – $1286.37
Google Web Stories – $800.00
Graphic Designer – $482.72
Taxes and License – $1450.00
Total Expenses: $6,591.17
Net Blogging Income for April 2021 = $7,563.05
April Content Costs
April marks the second month in a row that we were able to meet our content goal. This month 208 posts were published.
Content Costs = $3,727.63
For this part of the report you need to keep in mind that I had a lot of content that was ordered in a previous month but due to backlog didn't get published till this month.
So while this is the line from my April P&L for content expenses, if you try to do the math for a per article cost it isn't going to be accurate.
Net Blogging Income
As you read blog income reports remember that not all reports are created equal and it really is important to use them for inspiration but also remember your blogs are on their own journey.
Each month I report net blogging income after content and I always try to make it super clear the income reported won't actually be received for a few months due to differing payout schedules from ad providers and affiliates.
Adding up Content and Expenses yields a number of $11,290.68
A quick Income – Expense yields a net value for April of $2,863.54 profit. That number, though, is a value for someone who runs accrual accounting.
Like most bloggers, my actual books, and what I file taxes on, is CASH based accounting.
Sign up for the newsletter this month (May 2021) and I'll send you my ACTUAL P&L as of today for last month as well as a review of the key numbers that are different from above.
If you enjoyed this content, consider buying me a coffee.

MY NICHE SITE PROJECTS
Interested in reading about my niche site projects? Check out my Niche Site Project List to see my projects & their individual status.
RESOURCES I USE
I keep an up to date list of all of the tools and resources I use to manage my blogs, including how I create the awesome dashboards in my income reports, on my Tools and Resources page.

These are my top tools:
NEWSLETTER SIGNUP
If you want to be updated when I write a new blog post, use this form below. It isn't pretty but it works :D. I promise to try to remember to email you!