February 2021 Blog Income Report – $7,219.59 Earned
*This post may have affiliate links, which means I may receive commissions if you choose to purchase through links I provide (at no extra cost to you). As an Amazon Associate I earn from qualifying purchases. Please read my disclaimer for additional details.
As is the norm for January for most bloggers, income is down this month for most sites, and up for the personal finance site.
Overall though, things are looking pretty good for the business. Sites are progressing, some faster than others, and all in direct proportion to content being added.
📰NEW SITES THIS MONTH📰
Wow, so much exciting stuff going on this month! I have three new sites in the works (focus is a real issue for me, I know this, so we'll just move on, mkay!).
🥬🥕Food Item🍅🥒
I am trying a super niche site on one specific food item. Think about a whole site on apples or carrots. How to grow it, how to eat it, nutrition benefits, etc.
This site is on an aged domain I purchased that has a DA of 10 according to Moz. Will it give me a boost? I can't be sure but with 13 articles on the site we already have 30 organic pageviews so that's a good start!
I'm going to put 50 articles on this site to start and see how it works out from there.
🌺 Gardening 🌺
I have content ordered for this site but nothing actually published in February. This was another "aged" domain purchase with a DA of 8.
I know what you are thinking…gardening, that has got to be oversaturated. Maybe, but I saw the domain in a domain auction and I bought it.
I know what you may ALSO be thinking, don't you already have 2 Home & Garden sites? Yes, yes I do.
🏙️ Lifestyle 🏙️
The third site added this month is a lifestyle site. Think city living, small space decor, organization, night life, that kind of thing.
This is another aged domain with a DA of 16.
👴 Aged Domains 👴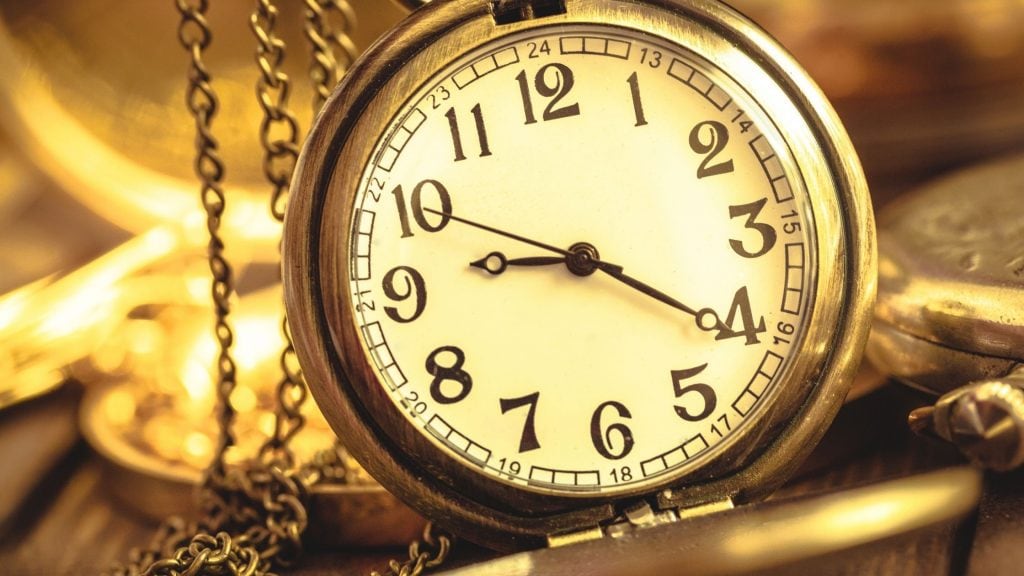 I know you are probably wondering about the aged domains. I want to preface that the domain from NSP3, my current highest earning site, was purchased off of GoDaddy on 06/07/2019.
It had no history and a domain authority of 1 according to Moz. That is, by the way, the DA that every URL starts with. It now has a DA of 17 with absolutely zero, nada, no link building at all.
I have several more up and coming sites that are also DA of 1. So by all means, don't think you need an aged domain to start a site, you don't. Period.
But, one thing I do love is a good auction. I also love new ideas so I find myself occasionally browsing the expired domain listings and auctions on GoDaddy quite frequently.
It's a great place for new ideas, even if the domains on there are bad, you might find something and be like oh…that would be a good site/topic and think of your own awesome domain. I do that too.
That being said, I've paid hundreds for domains with a high authority and industry specific backlinks. In fact, I did that just a couple days ago (but that is a story for the March report).
You must be aware that there is a risk. Last time I went on a domain buying roll I think I got 10 or 15. I'm fairly good at evaluating the domain, checking SEM rush, checking the way back machine, etc. and eliminating domains that might be spam yet, still, I bought 2 domains that had manual penalties.
As soon as I loaded them in Google Search Console I could see it right there, in red, PURE SPAM. Well, potato nuggets, those domains are trash. I turned off auto renew and moved on with my day.
Fortunately that doesn't happen very often (at least not to me).
🗠 February 2021 Basic Stats 🗠
23 "Active Sites" – More or less this means a site that I am actively doing keyword research for and having writers write content for. Not every "active" site gets new content every month.
131 articles published
158,999 words published
$330 in product sales
In addition to the new articles published this month I've been trying to do content updates. Some are more thorough than others but I do include those in the article counts below.
💰 February 2021 Income for My Sites💰
Total Gross Revenue for February 2021: $7,219.59
Keep in mind that though this report is Accrual, my actual business accounting is cash basis. That means that the income I report won't be realized for over a month, longer in some cases, depending on the source.
If you have read my blog for any length of time you know these numbers are legit but, here are some screenshots of ad revenue for the four largest sites.
Keep in mind total numbers above include other revenue sources like Amazon, products, etc. but ads make up most of my income.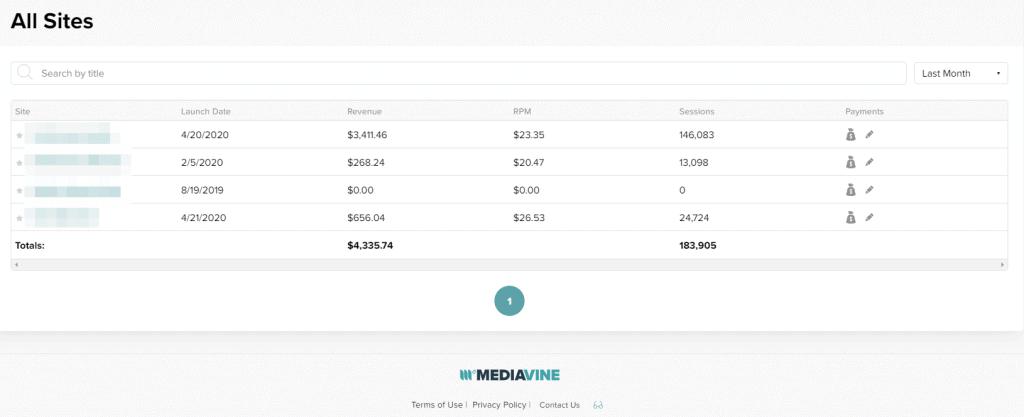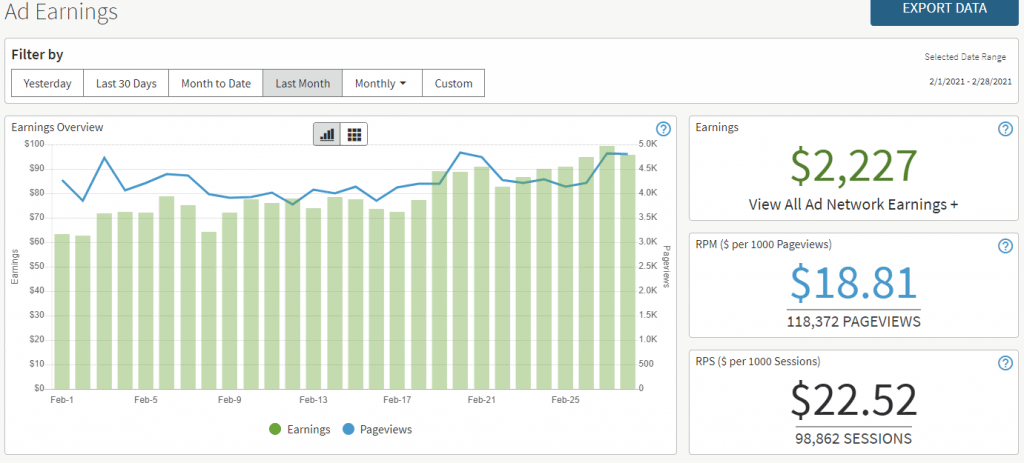 💸 February Blogging Expenses💸
Part of the work of doing these blogging income reports is assembling all the data. This month is pretty busy for me so, in order to get this report out I've decided to just list my main categories of expenses.
Advertising & Marketing – $185.37
Education – $981.83
Pinterest Templates – $15
Office Supplies and Software – $149.25
Recurring Software – $277.87
Domains and Hosting – $309.29
Miscellaneous Shopify / Stripe / Paypal Fees – $36.41
Virtual Assistants – $808.83
Graphic Designer – $378.00
Total Expenses: $3,137.85
Net Blogging Income for February = $4,081.74
One of the things I am working on as far is expenses is getting my education and recurring software fees down.
I absolutely understand the value of education but am always evaluating finances and seeing what I have time for and where I can eliminate costs.
Education and recurring software are two of the biggest areas. Domain names are another issue but, $120ish of that number is hosting and I hate to give up a great domain name.
So let's go into Content Expenses
February Content Expenses
FINALLY! I finally hit my goal of publishing over 100 posts in a single month. Let me tell you, establishing the systems & teams required to hit that goal is no small feat!
I'm hoping this month
February Net Income after content investment = -$605.79
January Net Income after Content: -$3,691.85 (new computer this month)
December Net Income after Content: ~$2,449.60
November Net Income after Content: $2,141.13
October Net Income after Content: $1,975.33
September Net Income after Content: $285.46
August Net Income after Content: $1,606.39
July Net Income after Content: $1,546.65
🎩 March Plans 🌈
March is going to be a busy month. In order to meet my content production I need to either order more content from a content service or hire more writers. For March, in addition to a large content order I placed, I'll be hiring 3 – 5 new writers.
Thankfully I have a VA who is awesome and mostly handles that process for me now.
I also plan on launching a few new sites but I'm not sure if I'll release those in March or April because the content isn't ready yet and it is already the 7th. Plus, the domains don't get released to me from GoDaddy till like the 13th/14th.
Other than that things will just be plugging along. March's content goal is 171 posts…let's see how close we get!
If you enjoyed this content, consider buying me a coffee.

MY NICHE SITE PROJECTS
Interested in reading about my niche site projects? Check out my Niche Site Project List to see my projects & their individual status.
RESOURCES I USE
I keep an up to date list of all of the tools and resources I use to manage my blogs, including how I create the awesome dashboards in my income reports, on my Tools and Resources page.

These are my top tools:
NEWSLETTER SIGNUP
If you want to be updated when I write a new blog post, use this form below. It isn't pretty but it works :D. I promise to try to remember to email you!