Niche Site Project 4 – March 2020 Update
*This post may have affiliate links, which means I may receive commissions if you choose to purchase through links I provide (at no extra cost to you). As an Amazon Associate I earn from qualifying purchases. Please read my disclaimer for additional details.
This is yet another site seeing a big boost in traffic this month. Because the site is so new, I don't know if it is just coming out of the sandbox or if traffic is spiking because of the current situation or maybe a bit of both.
In fact, there isn't much to report for this site this month. I published a whopping ZERO articles. But, let's explore what we know.
Project Dashboard

Income
Income is up this month and I expect that to continue. Around the 2nd or 3rd I FINALLY got on Ezoic which is awesome. Now this project can actually start earning some money!
The total income of $124.41 breaks down to:
Ezoic Ads – $169.89
Amazon.com – $59.52
Traffic
Traffic this month is definitely on the rise. Again, since I didn't publish any content on this site this month, I'm really excited about this growth.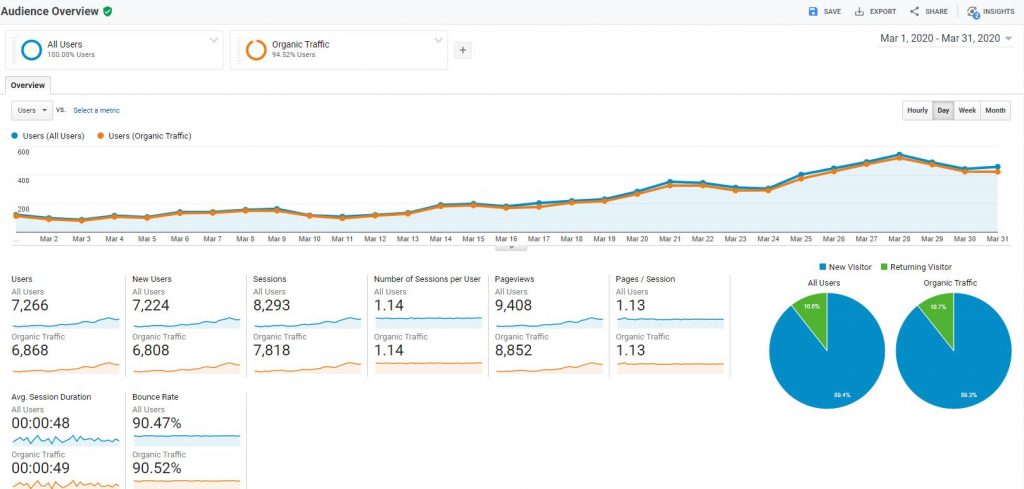 Compared with the previous period, each metric is up OVER 350%. Even though I know it is much easier to get these big percentage increases early on, it is still awesome!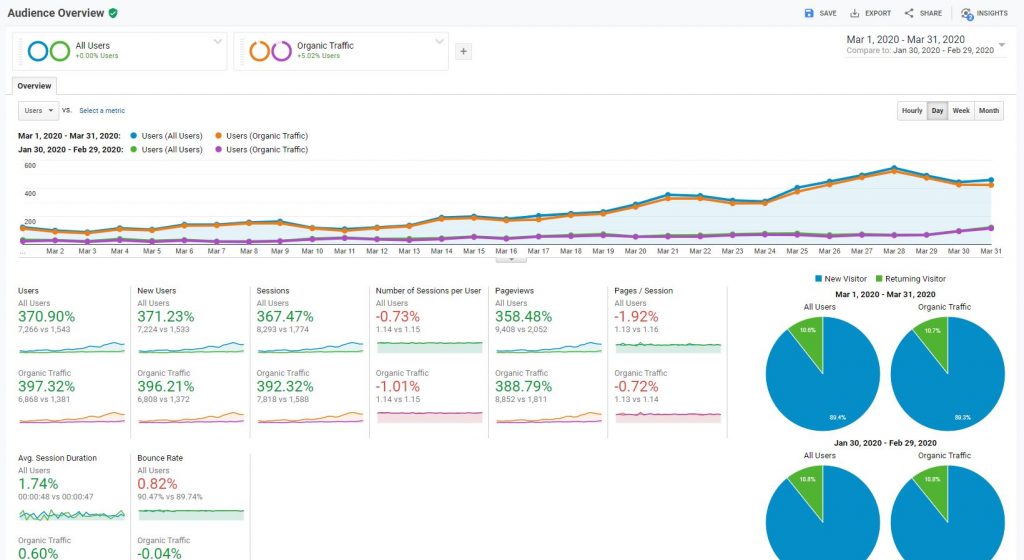 Goals
My session goal for April is going to be 15,000. 20% growth would be around 10,000 but why not go for gold right!
Content wise, I'd love to publish at least 10 new articles on this site but I am always on the fence with adding new content or just letting the site sit, building income, and then sell it in a year.
It's a tough call but, ultimately, I decided I want to continue building it out until it hits $1,000 a month consistently. Then I'll let it sit. At that point I know it will be worth at least $30,000, but I can make that decision when I get to that point.
If you enjoyed this content, consider buying me a coffee.

MY NICHE SITE PROJECTS
Interested in reading about my niche site projects? Check out my Niche Site Project List to see my projects & their individual status.
RESOURCES I USE
I keep an up to date list of all of the tools and resources I use to manage my blogs, including how I create the awesome dashboards in my income reports, on my Tools and Resources page.

These are my top tools:
NEWSLETTER SIGNUP
If you want to be updated when I write a new blog post, use this form below. It isn't pretty but it works :D. I promise to try to remember to email you!