April 2020 Blog Income Report – $2,674.90 Earned from Multiple Sites
*This post may have affiliate links, which means I may receive commissions if you choose to purchase through links I provide (at no extra cost to you). As an Amazon Associate I earn from qualifying purchases. Please read my disclaimer for additional details.
April is always a fun month for me. Mostly, because it's my birthday month and I look forward to spending extra time with friends and family. This month it was a little lackluster due to the Quarantine situation. Not as much fun meant I got more work done though, which I know will pay off in the long run!
🛑🛑 STOP right now, go over here to my YouTube channel and subscribe. I have six subscribers, some not too great videos and I plan on making more. Mostly detailing cool stuff I learn about blogging, how I do my keyword research, how I track 9 blogs, etc. Plus, my videos will get better with time…hopefully… 🛑🛑
WOW Ok so now that that is done. If you are new here, you may want to check out my Blog Income Overview Page where I have a nice table of my blogs, their niche, and their income over time. It looks best on a desktop. So if you are on a mobile, just heads up that the table probably looks bad but you should be able to scroll left to right.
100k Club x 2 🎉
This month two of my blogs hit a very big goal for me. Niche Site Project 1 and Niche Site Project 3 both hit 100,000 page views this month!
Of the two, I'm most excited about the latter because it is on a brand new domain, and my "Project 24 Project Site". It is the site I started specifically when I joined the Project 24 program to "follow along".
I am stoked that at only 11 months old, this site has been able to reach this goal. Granted, the majority of the traffic is to one post. So yeah, I got lucky with a search topic, but I'll take it!
Increasing RPM's on Two Sites
Sites 3 and 4 qualified for Mediavine and have completed the switch. I am over the moon about my RPM increases vs. Ezoic. I went from a max of around $14 per day on site 3 when it was on Ezoic to near $30 a day on Mediavine so far, with RPM's still climbing as it does with new sites on any ad platform.
$30 a day with an 11 month old site!!
That being said, Ezoic reps did reach out after the switch and feel like they can make some adjustments to my next site to ensure my RPM's meet or exceed those I see at Mediavine.
I love that Ezoic is available for smaller blogs and they have made a huge difference for me in my blogging career. Their analytics greatly fulfill my love for data but, the truth is, I have to run a business and make financial decisions to support that.
That being said, I'm interested in the idea that my settings were too conservative for my goals and will be excited to work with them on my up and coming sites to see if we can, indeed, get similar RPM's.
If your blog isn't on Ezoic, it probably should be. This affiliate link is a great place to start!
New This Month
Most months are like the one before it…publish content, keyword research, check stats. Sometimes some cool (or not cool) stuff happens…this is that stuff for this month.
Double Tracking Codes – I found two of my sites had a double tracking code for about 10 days. Specifically sites 3 and 4. I fixed the issues, added analytics notations and moved on. Does that mean pageview counts for Site 3 might be inflated? Yes, they certainly are. But based on sessions I feel like the site still hit the 100k traffic goal. That's my story and I'm sticking to it!
Cutting Expenses – Let's face it, I was spending just under $400 per month for my VA and Editor combined. My Pinterest manager was another $300. This quarantine situation really makes a girl step back and evaluate "necessary" expenses. These weren't so, unfortunately, I had to let all three positions go for now. That means that either I am doing the work or, in the case of Pinterest, it is mostly not getting done. It is what it is.
Affiliate Program – I started my own for my printable products. I'm offering 50% commission and using SendOwl as the platform. I'm hoping to be able to debut that here next month but I want to add more variety to my offerings first!
Amazon Reduces Commissions – I'm not worried about it. I'm not changing my strategy to adjust for it even though a lot of my commissions are in the pet's niche. It converts pretty well for me and it is easy to add / keep track of.
April Income for my Niche Sites
Total Gross Revenue for April: $2,674.90
April Expenses
GoDaddy – $16.94
BigScoots Hosting – $56.90
ClickUp – $258.62 (they have a free plan I added unlimited automation on a special deal).
Tasty Pins – $29.00
SEM Rush – $99.95
Microsoft – $6.99
Genesis Framework – $59.99
Canva – $22.90
SendOwl – $24.00
Zapier – $24.99
GeniusLink – $1.95
SEO Courses – $44.96
Pinterest Templates – $15.00
Photography Backdrops – $166.75
Office Supplies (Printer Ink Subscription) – $5.46
SendFox – $49.00 (additional license b/c my lists are growing!!)
Publr – $39.00
Total Expenses for April = $882.36
Net Income for April= $1,792.54
April Content Expenses
I actually expected this number to be a lot higher. I had given my writers permission to write as many articles as they like and one even reached out to me asking if there was a cap.
Despite that, one writer has pretty much dropped off the face of the earth, and production hasn't increased very much over last months $456.43. I plan on adding new writers in May just to kind of speed up content creation a little bit.
Net Income After Content Investment – $1,156.04
Still playing catch up on content this month. Letting my VA and editor go didn't help. Slowly but surely though!
Income Screenshots
Here are screenshots from my biggest income producers.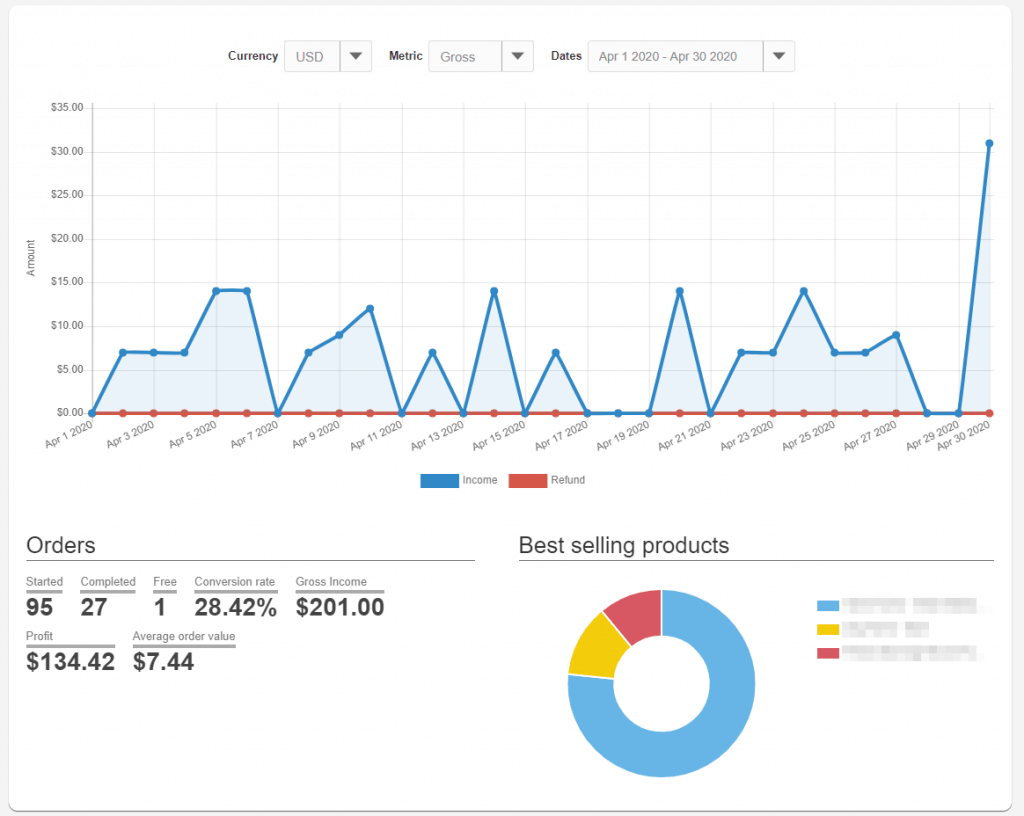 Traffic Gains
Since I'm not doing full income reports for each sites regularly, I thought I'd use this section here to kind of show you the growth.
Site 1
As a site gets more and more traffic, it gets harder and harder to pull big percentage increases month after month. I am absolutely thrilled with the numbers below!
View the homepage for this site here.
Site 2
Even though stats are up, the income on this site is way down. I need to continue to work on it! This is in a tough niche (personal finance) and is a passion site, not really a logic one!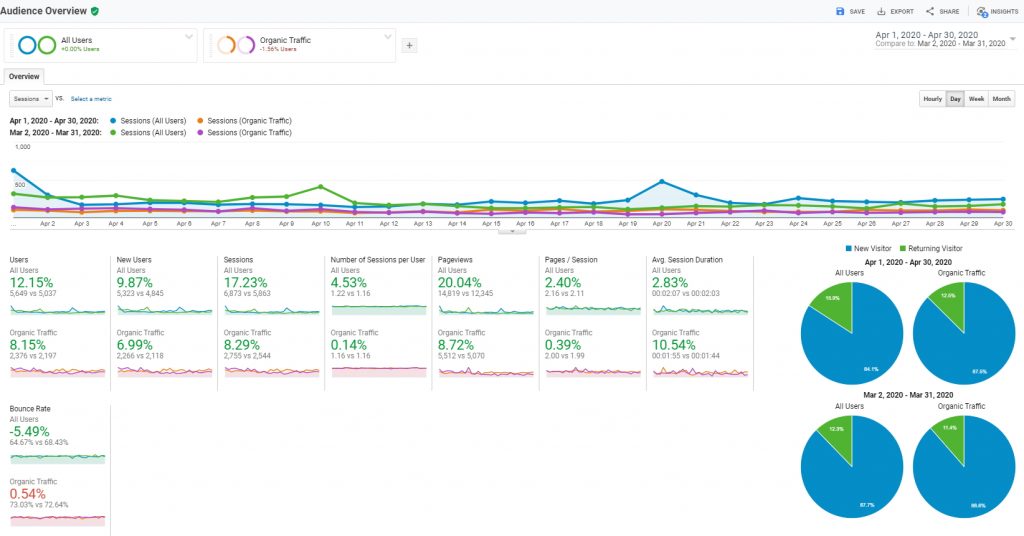 View the homepage for this site here.
Site 3
WOWZERS!
View the homepage for this site here.
Site 4
YES! Finally! This site didn't have any new posts this month but the time and content invested in previous months is obviously paying off.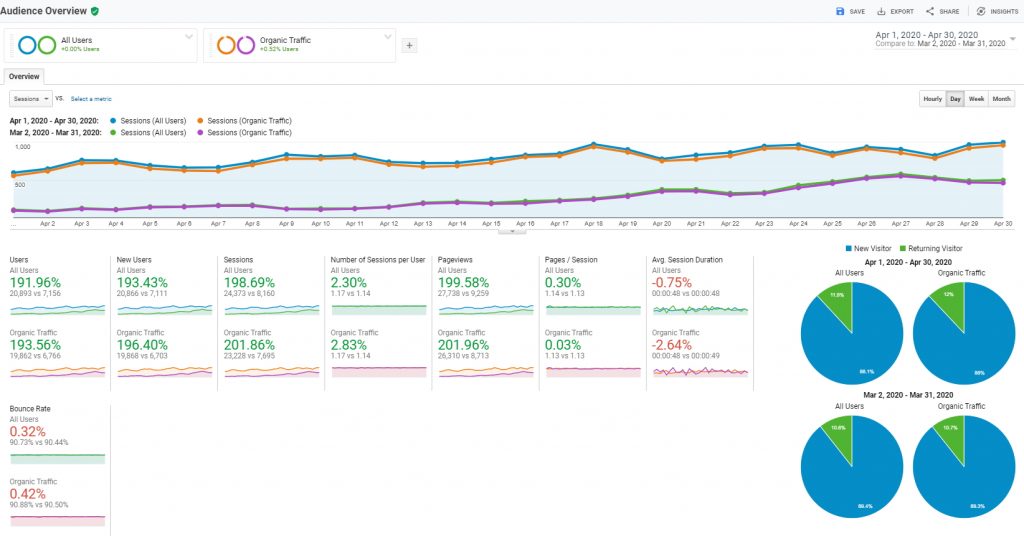 View the homepage for this site here.
Site 5
For a site with only 11 articles, this one isn't doing too bad!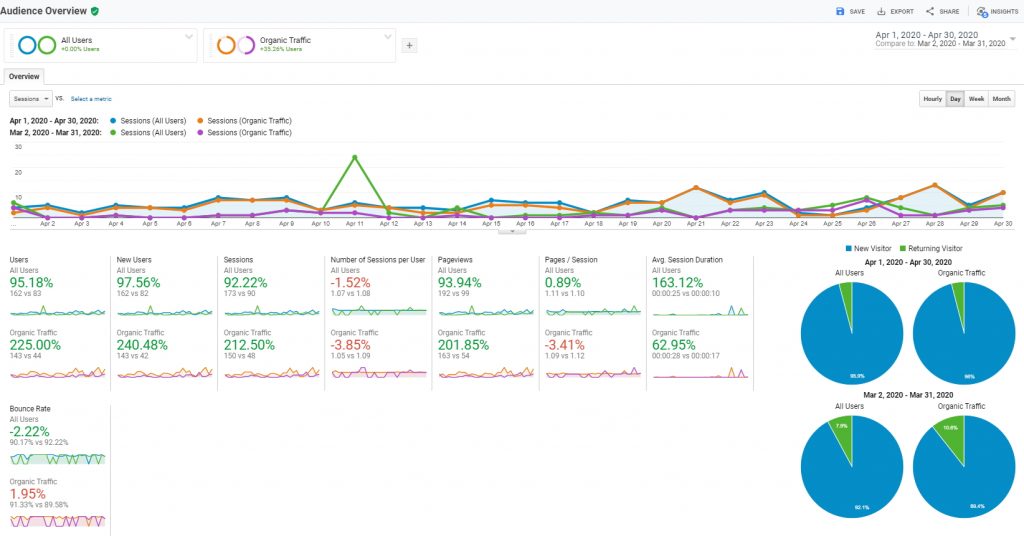 View the homepage for this site here.
Site 6
This is another baby site, hasn't got off the ground yet but I am liking the increases in organic traffic!
View the homepage for this site here.
Site 7
I haven't touched this site in at least 6 months and am not sure when I will have time to. Here is a lame screenshot 😀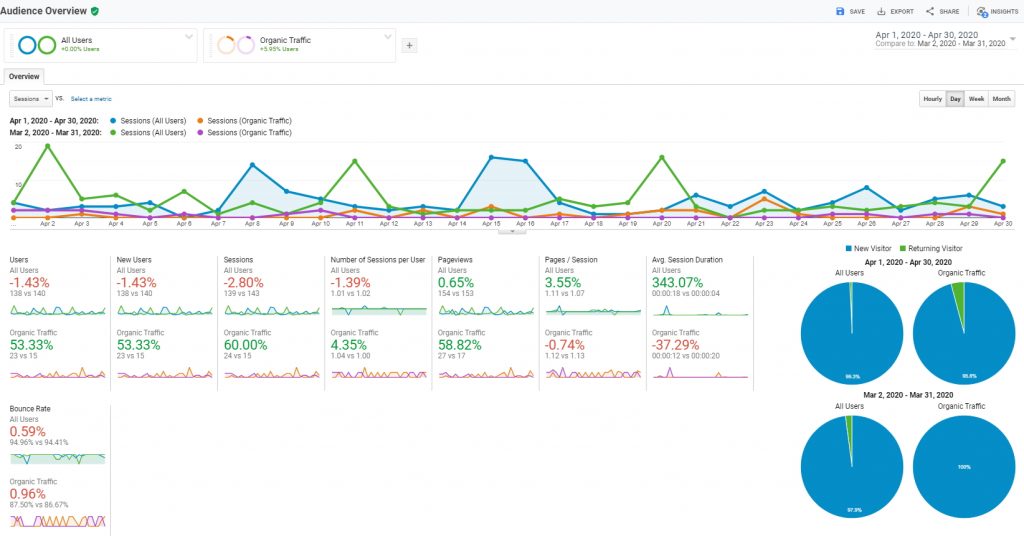 Site 8
This site is still so new I don't expect positive growth for a while. The reality is, a lot of the sessions are probably me or my partner checking things, making sure scheduled posts are published, etc.
If you enjoyed this content, consider buying me a coffee.

MY NICHE SITE PROJECTS
Interested in reading about my niche site projects? Check out my Niche Site Project List to see my projects & their individual status.
RESOURCES I USE
I keep an up to date list of all of the tools and resources I use to manage my blogs, including how I create the awesome dashboards in my income reports, on my Tools and Resources page.

These are my top tools:
NEWSLETTER SIGNUP
If you want to be updated when I write a new blog post, use this form below. It isn't pretty but it works :D. I promise to try to remember to email you!