Niche Site Project 1 – March 2020 Update
*This post may have affiliate links, which means I may receive commissions if you choose to purchase through links I provide (at no extra cost to you). As an Amazon Associate I earn from qualifying purchases. Please read my disclaimer for additional details.
Project Dashboard
This month, with everything going on, I did not expect the increases I received. I am thankful for them though. It is encouraging to see this blog, my baby, continue to grow especially with the in your face realization how important it is to have an online business where you can work remotely from almost anywhere in the world. Even if working "remotely" means just staying home.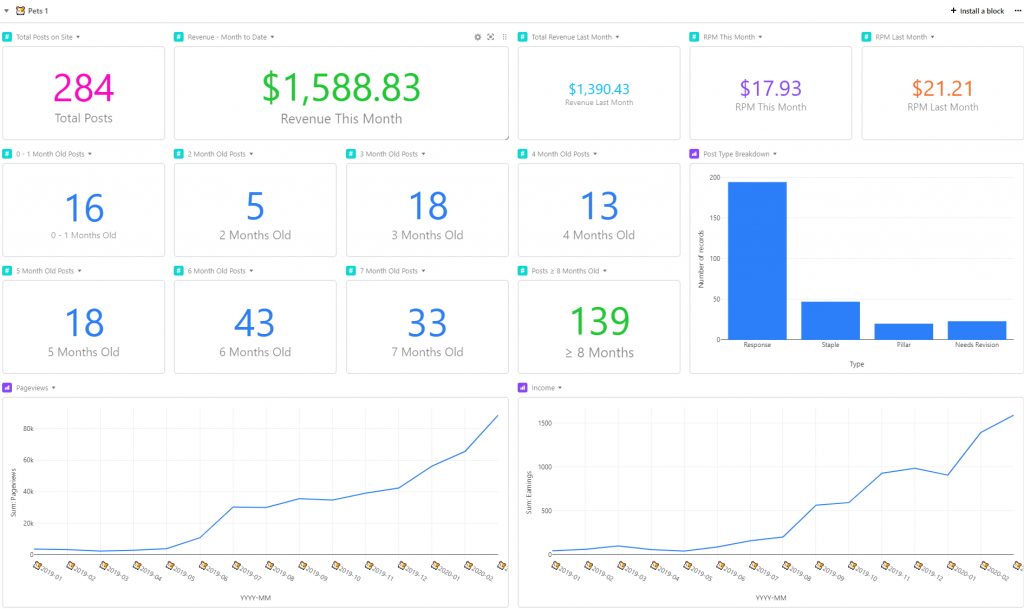 Content
The monthly post count for this site still isn't where I want it. It's definitely down from last month's 11, but it is what it is. Right now I have a ton of content for four sites to get added, I need to use this time at home to publish that in April.

I also wrote a guest post for another blog in the industry this month. Sometimes that will drive a little traffic to my site but, at least it gets me a back link from a good authority site in the same niche.
Backlinks are something I don't worry too much about but I'll take the time to write a guest post when asked here and there. This niche is so small it is pretty easy to tell which sites are legit and which ones are just farmed content.
Traffic
I am thoroughly impressed with pageviews this month. I set a goal each month for sessions. Last month I had 53,195 Sessions. My goal this month was 64,000 sessions.
I was looking for round about 10% growth. I know that as this blog gets larger, it will get harder to bring in big growth numbers. It's a lot easier to get 20% growth off of 2,000 visitors, for example, than it is off of 200,000.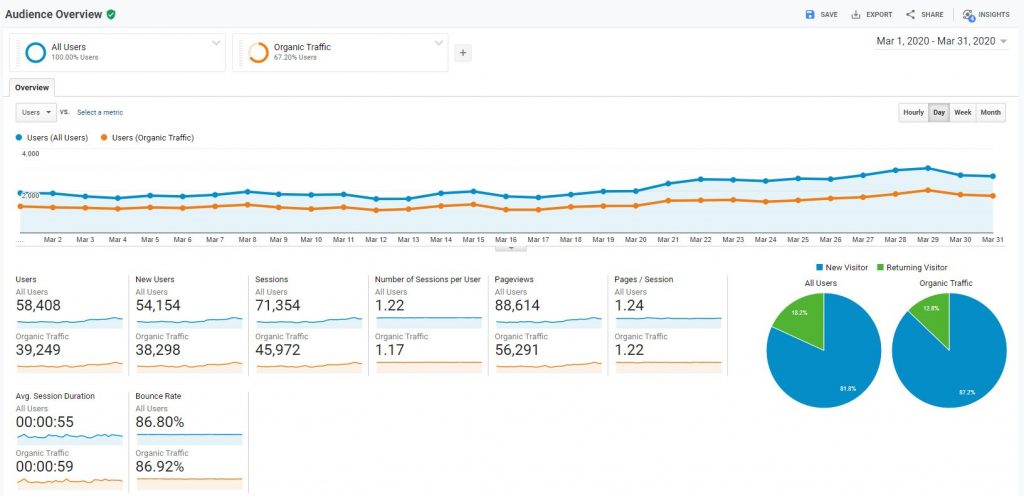 This site is up almost 30% across the board. Something I wasn't expecting but am super happy about.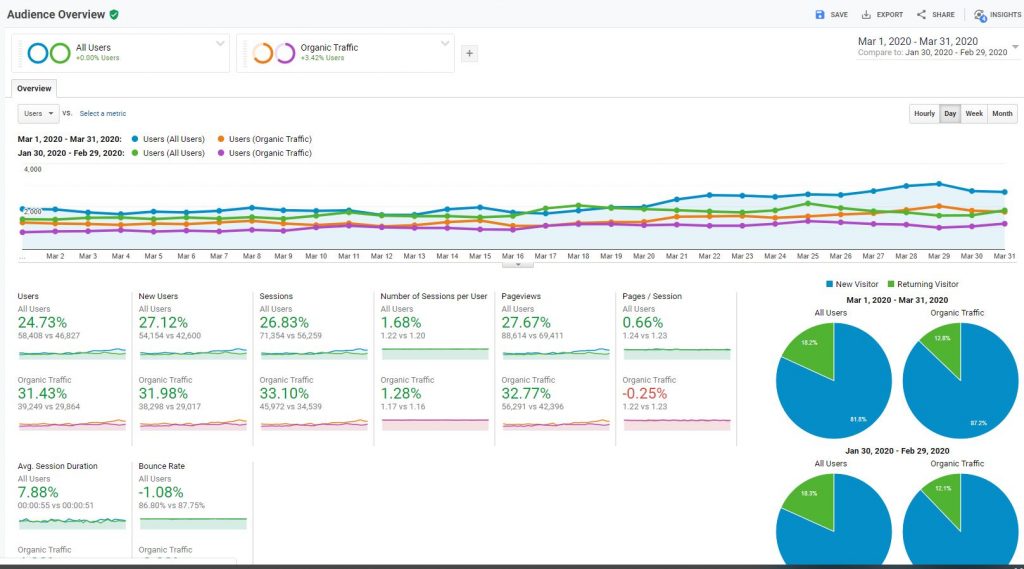 If you saw February's Income Report you know that I was playing with projections for the site if I had a 20% month over month growth. I didn't expect to actually be able to hit that number!
While traffic certainly skyrocketed, income for the site is barely up. That is mostly due to decreasing RPM's. Ad publishers have warned us this would happen. There is nothing to do except be glad we have the ad income and just weather the storm.
Income
As I mentioned, Income is up but not by much. Overall Amazon is down but product revenue and advertising income went up.
This month I built a better landing page for my product and also set it up on SendOwl with an affiliate program. That way other bloggers in the industry can promote it and we both benefit.

Goals
Last month I set the following goals:
Reach 64,000 Sessions🏆 WIN
Publish all paid-for content / get caught up on my backlog. ❌ FAIL
Get at least 25% completion on my new product.🏆 WIN
My goals for April are:
Publish at least 10 articles.
Reach 85,000 Sessions
If you enjoyed this content, consider buying me a coffee.

MY NICHE SITE PROJECTS
Interested in reading about my niche site projects? Check out my Niche Site Project List to see my projects & their individual status.
RESOURCES I USE
I keep an up to date list of all of the tools and resources I use to manage my blogs, including how I create the awesome dashboards in my income reports, on my Tools and Resources page.

These are my top tools:
NEWSLETTER SIGNUP
If you want to be updated when I write a new blog post, use this form below. It isn't pretty but it works :D. I promise to try to remember to email you!