Niche Site Project 1 – February 2020 Update
*This post may have affiliate links, which means I may receive commissions if you choose to purchase through links I provide (at no extra cost to you). As an Amazon Associate I earn from qualifying purchases. Please read my disclaimer for additional details.
Project Dashboard
RPM's are starting to go up this month. One of the things I did this month that may have contributed to that is that I turned on site-wide video via MediaVine. Prior to doing so, a video would only play on a post if I had specifically uploaded one. Instead, I created a generic video and enabled the feature to have that video play if a specific video was not available.
I also added more post-specific videos to the top-performing posts. The videos are supposed to earn more income if they are specifically created for a post vs. displaying the generic ones so I did that for a few of my posts that bring in traffic.
I definitely have seen an increase in income. I am sure other factors are at play but I do think this helped as well.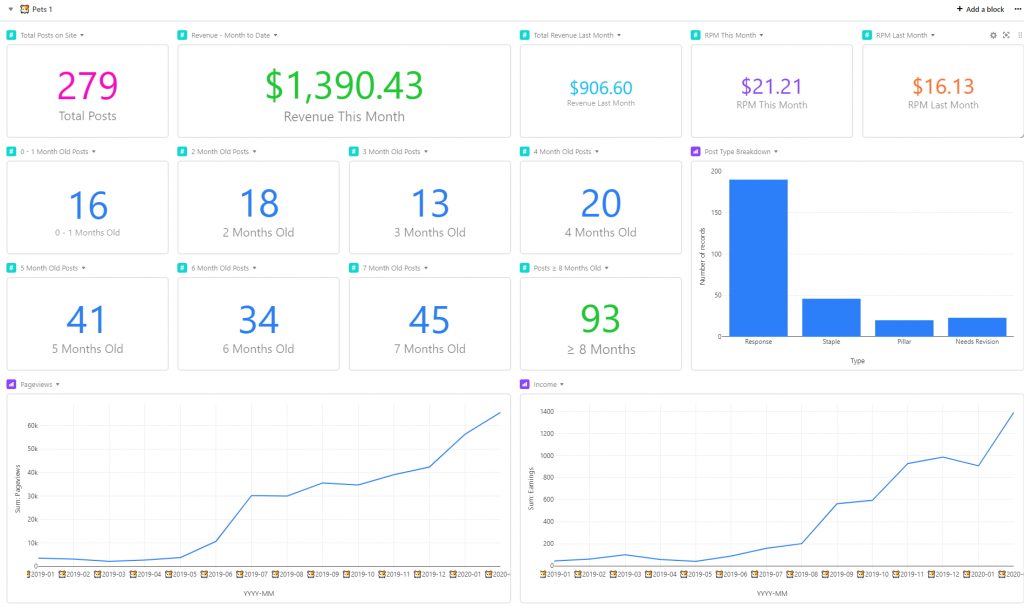 Content
I got more posts published this month vs last month (11 vs 5), but still not as many as I would have liked. I have more posts pending review and pictures that I just didn't have time to get to this month.

All 11 posts this month were outsourced. A total of 19,717 words were published to the blog.
Traffic
Pageviews and sessions are up again. This month I set a goal of 50,000 Sessions. I figured that is just shy of a 15% increase over January sessions (44,411) and would be doable.
If you will remember, in January I only set a goal of 10% over December and that was blown out of the water. For March, I think I'll round up a new goal to an even 20% increase.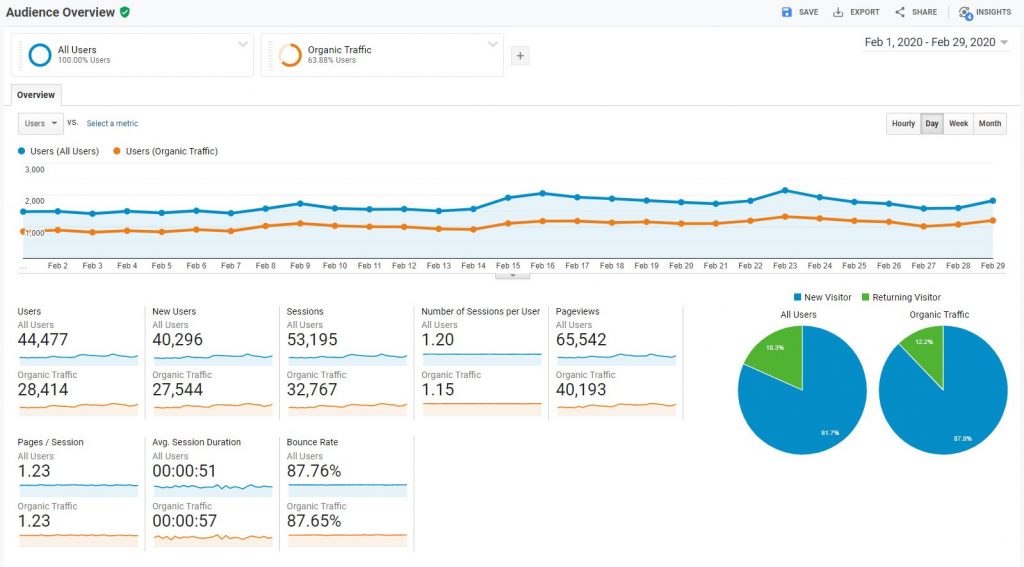 For the comparison, I'm comparing 29 days to 31. Still, the growth is awesome!
In fact, just for fun, I calculated out how a 20% growth in sessions, month over month, would change income for this site assuming the same overall RPM from this month.
Now, I know there is no way to predict traffic growth or income potential, but it was still fun to create! I mean, I'd be thrilled if this site was making almost $7k in monthly revenue by December!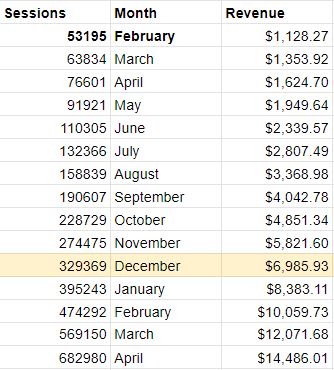 What this chart does do, though, is give me a goal value for sessions for March. I think I'll make that even 64,000 sessions.
Income
Keep in mind this is not a profit report, it is an income report. Just because I "earned" the income this month doesn't mean I received it this month.
There was a nice jump in ad revenue this month. I think that is partly due to increased page views and partly due to adding video for all posts, as I mentioned earlier.
Amazon earnings are up this month too. Late in the month I went into my top 10 posts by traffic and made sure they all had one or two Amazon affiliate links. I am hoping this will help things grow for Amazon next month as well.
Product sales and other affiliate income were down. But that's OK. I haven't really focused on them much.

Goals
Last month I set the following goals:
Publish all paid-for content / get caught up on my backlog. ❌ FAIL
Get at least 25% completion on my new product. ❌ FAIL
It was a fail for both. I just focused on other stuff and didn't make progress on these. So, they will continue to be my goal for this month.
Reach 64,000 Sessions
Publish all paid-for content / get caught up on my backlog.
Get at least 25% completion on my new product.
If you enjoyed this content, consider buying me a coffee.

MY NICHE SITE PROJECTS
Interested in reading about my niche site projects? Check out my Niche Site Project List to see my projects & their individual status.
RESOURCES I USE
I keep an up to date list of all of the tools and resources I use to manage my blogs, including how I create the awesome dashboards in my income reports, on my Tools and Resources page.

These are my top tools:
NEWSLETTER SIGNUP
If you want to be updated when I write a new blog post, use this form below. It isn't pretty but it works :D. I promise to try to remember to email you!