8 Awesome Blog Planners for 2022
*This post may have affiliate links, which means I may receive commissions if you choose to purchase through links I provide (at no extra cost to you). As an Amazon Associate I earn from qualifying purchases. Please read my disclaimer for additional details.
Creating a blog and constantly producing new content is not an easy feat. Blogging is fun, although we do need a little bit of help every now and then.
A Blog planner is a great and useful tool for every blogger out there and it assists bloggers in every aspect of having a blog. These planners help in organizing your thoughts, setting goals and creating a plan to achieve these goals.
With a blog planner, you can easily jot down your ideas, plan your content ahead of time, keep track of your future posts, plan your vision for the year, and focus on the steps towards your goals.
Choosing the right blog planner is essential as you'll be using this for the whole year. Choose a blog planner that you like, something that is aesthetically appealing might make you pay more attention writing on it.
Pick something that corresponds with what you need in a blog planner. Do you need something to just organize your time, plan your schedule and future content and blog posts? Or do you need something that will help you motivate your mindset with affirmations, blogging tips, and so on?
There are a lot of different blog planners out there, and it goes down to your personal preferences and if you're just beginning to start a blog or are more experienced. Choose from digital and printable blog planners or physical blog planners.
Be organized, inspired and motivated in achieving your goals with these 8 awesome blog planners for the year 2022 to help you become more focused and a productive blogger.
1. The Badass Blog Planner
This one-year planner will help all bloggers, entrepreneurs, freelancers and artists grow their presence online and plan their blog and social media content strategically.
The Badass Blog Planner helps organize your social presence to promote your brand online. With over 60 worksheets that have attractive designs, it helps in brainstorming and tracking progress in blogging, advertising and social media content.
This is great for someone who already has a blog running or a business as it helps to track and analyze last year's progress to the current year.
The blog planner is created by Sarah Morgan who is a digital strategist and has been building websites and blogging for 20 years.
Sale
Pros: The planner is comprehensive and user friendly for anyone who has a digital media platform.
Cons: May not be suitable for anyone who is just starting their own blog and someone who needs a guide to start their own blog.
2. CREATE Blog and Editorial Planner
The CREATE Blog and Editorial Planner is 246 pages long and helps you set up your priorities and specific tasks you need for every stage of your blog. This planner provides insight to help you organize your blog, create content and build a business around your blog.
You can plan and track your progress and create goals for every quarter. Grow your blog, focus on the tasks and get a handle of things. This is ideal for both beginner bloggers and more experienced bloggers.
Pros: There is plenty of space to write on the planner so you can jot down all of your brainstorming ideas and plans.
Cons: The planner has only a black and white color scheme and some pages are in dark hues. There are also no weekly spreads on the planner to detail each day.
3. Orange Circle Studio 2022 Monthly Pouch Planner
The Orange Circle Studio 2022 Monthly Pouch Planner has full-color pages and comes in different styles with colorful and cute designs to pick from.
It is a small and portable organizer with a reusable zip-close pouch jacket where you can easily hold your pens, extra notes and other stuff you might need. This pouch planner is perfect for bloggers and anyone who's always on the go.
Pros: A portable planner for bloggers to easily bring it anywhere. The pouch is a good addition to this on-the-go planner. The planner also has an appointment book that has monthly spreads so you can easily see and plan your monthly schedule.
Cons: There's not a lot of area to write in the planner especially if you're into writing a lot of things down. The planner only has monthly views and no weekly pages.
4. Blog Well Planner
Organize your blog and business and accomplish your goals in the Blog Well Planner. The undated, quarterly planner has double-spread calendar pages per month where you can separate your work and personal life.
The two calendar pages are also useful if you want to separate appointments and deadlines in one monthly calendar spread and email schedules, promotion, blog and social media posts on another calendar.
Sale
Pros: Includes monthly and quarterly goal tracking sheets and a 24-hour daily appointment calendar.
Cons: The blog planner comes in only one design.
5. Chic Prose Prints Ultimate Blog Kit
For a printable blog planner, the Ultimate Blog Kit by Chic Prose Prints helps to organize and launch your blogging career.
The planner covers all the points you need in blogging like writing your blog posts, managing your finances, tracking your stats, planning your newsletter and creating and designing a website.
The 43-page blog kit is good for beginners and anyone who is just starting their own blogs.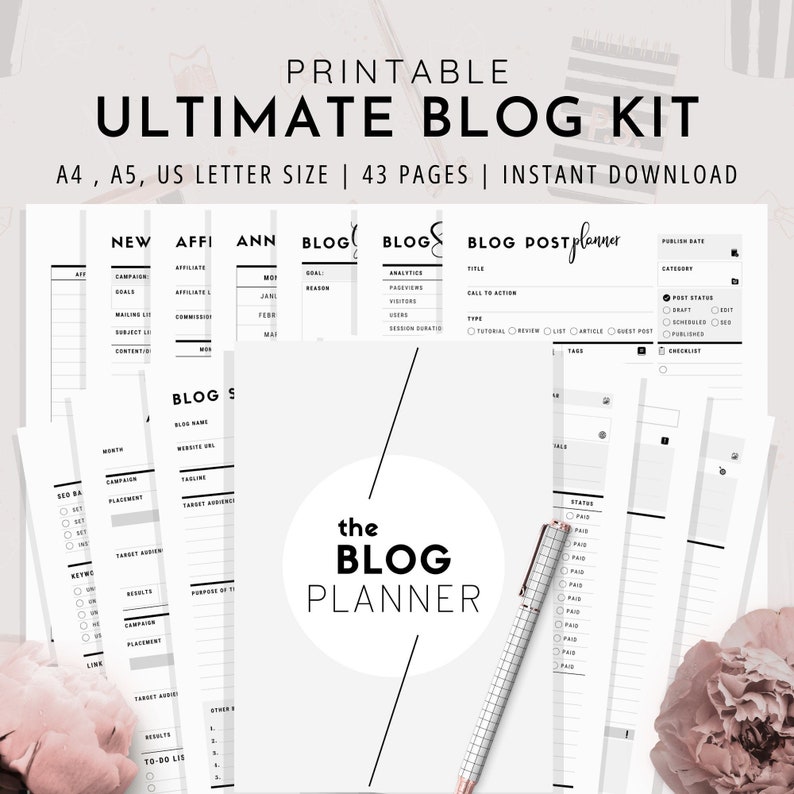 Pros: The blog kit has daily and weekly planner pages, helps track your stats and is complete with all your blogging essentials.
Cons: As this is a digital printable blog planner, there are no refunds after you've purchased the blog kit.
6. Productivity Bear Digital Blogging Planner
For those who are working on a tablet, try this digital blogging planner from Productivity Bear that will help you in organizing your blogging plans.
It comes with social media planner and schedule, post and content planner, and includes sections such as hashtags, keywords, SEO descriptions, and so on.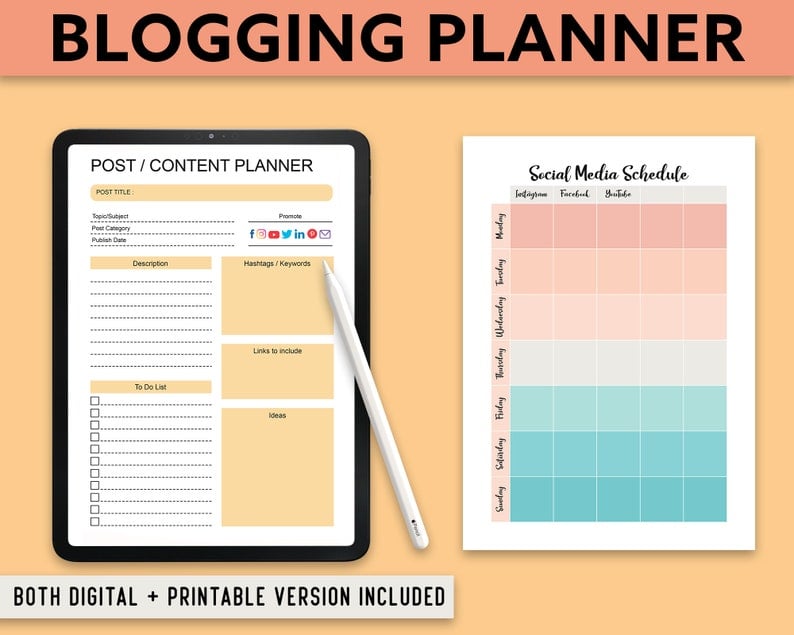 Pros: Includes a printable version of the blogging planner for those who want a pen-to-paper blog planner.
Cons: The planner does not have a weekly or monthly planner page but only a social media post schedule. It also does not offer returns, exchanges or cancellations on the purchases.
7. Morning Star The Blogging Planner
If you're into everything digital and want your planner in your iPad or tablet, then a digital blog planner is right for you. Plan easily with an undated monthly planner and blog planner pages.
Organize your finances with monthly income, expenses, and budget pages. Track and keep up to date with your monthly blog and social media stats.
The blogging planner also comes with a page for your blog mood board and brainstorming ideas. The Blogging Planner by Morning Star provides everything you need to get your blogging career in place.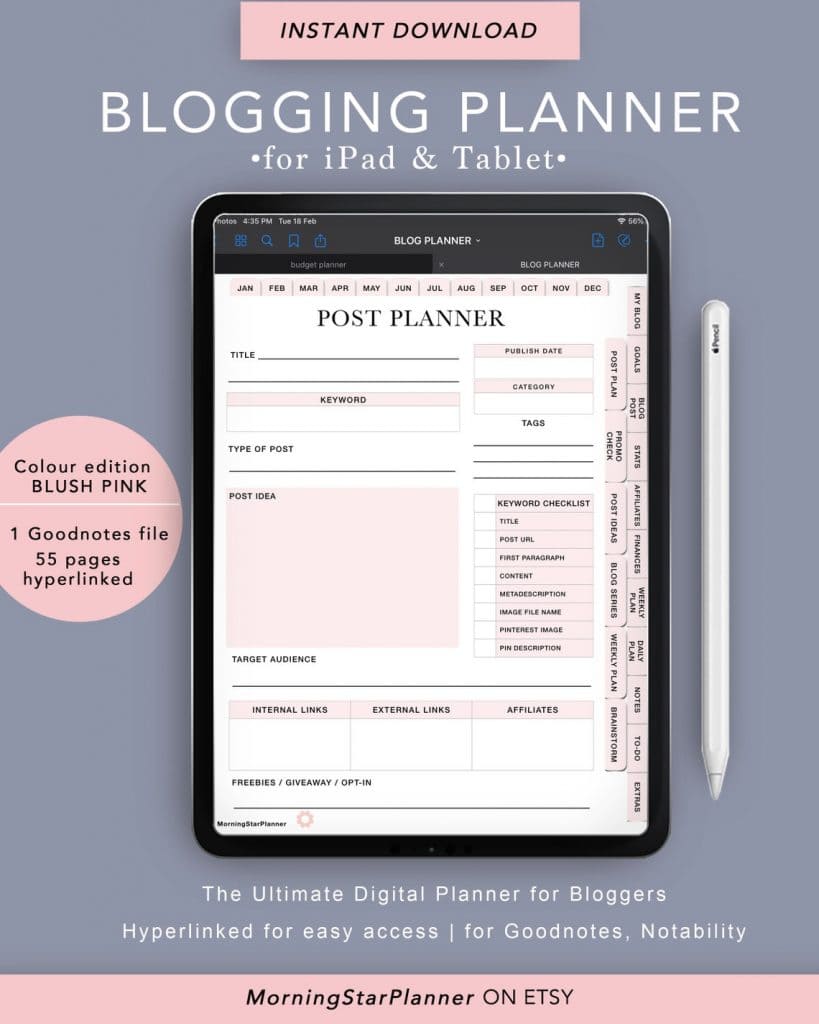 Pros: The planner is very comprehensive and has everything you need to help you become a more organized and productive blogger.
Cons: With a digital planner, you still need to purchase apps separately such as Goodnotes that are needed to be able to use the planner. Does not offer refunds on the purchase.
8. Amma Rose Designs Digital Blog Planner
The clean, light and minimalist look of the digital blog planner is very chic and stylish. The 74-page planner and workbook is very detailed in terms of organizing, planning and managing your blog.
It contains key planning essentials every blogger needs to organize their blogs and manage the day-to-day tasks of your blog. The blog planner also helps keep track of stats to see your progress and what needs to be improved.
Every aspect needed for you to manage your blog is included in this planner. From self reflection pages, blog management, and email marketing to calendar and planners, annual check-in, and blogging SEO and keywords.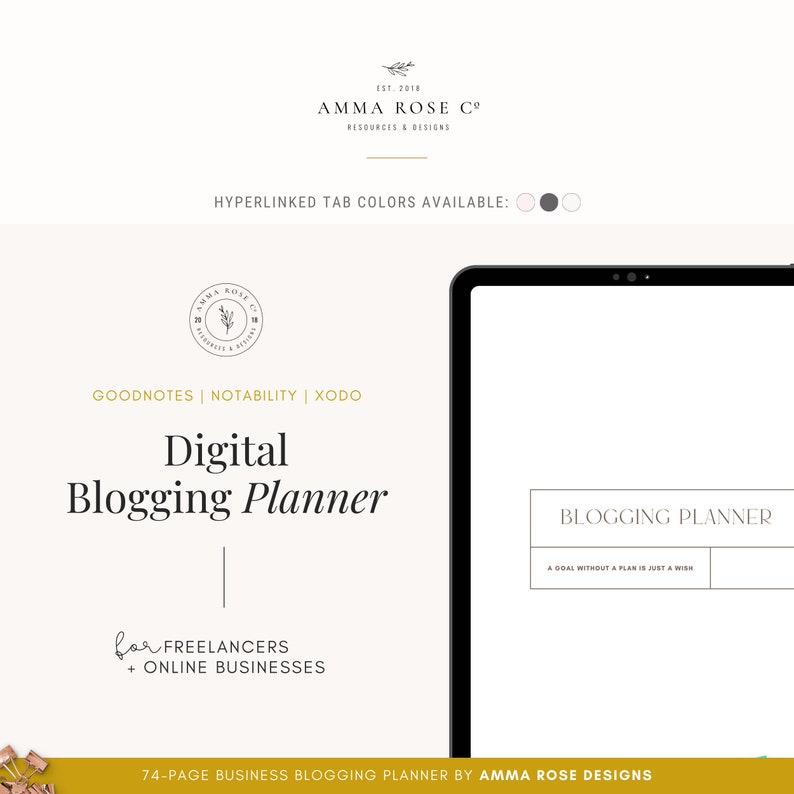 Pros: This blog planner is very helpful in keeping you focused and setting your goals. The digital planner is comprehensive and detailed for your blogging essentials.
Cons: This digital blog planner requires a note-taking app such as GoodNotes, Notability, Xodo, etc. Does not offer refunds or exchanges on the purchases.
Resources: